A LIFE WITH A VIEW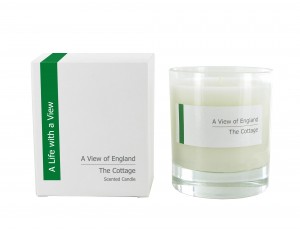 What is it? A British range of top quality room fragrances.

What's the USP? Scents that evoke beautiful interiors and fabulous views from around the world.

Hero product? The Cottage candle from the A View of England line (£40, alifewithaview.com).
Why the name? Each fragrance is inspired by 'views' from sought after locations such as a New York loft, an English cottage, an Italian Villa and French Gite.

How new is it? Launched this month.

I've tried.. the English Cottage candle, shown above, which is really very nice though I was a bit baffled by the smell at first. Only because, of all the scented candles I've had the pleasure to smell and burn over the years, I can't think of a single one that celebrates something as simple and familiar (at least, to someone who spent their childhood in the English countryside) as the gentle fragrances of a cottage garden. Usually, candles are vying to put out something exotic, or indulgent, or exciting, with aromatic oils, leathery notes, tropical flowers… and here is something altogether quieter, which encompasses herbs like chamomile, flowers like sweet-pea and wistaria, with a hint of woodsmoke for good measure. Lovely.