Alice meets… Dr Paul Nassif
21st October 2019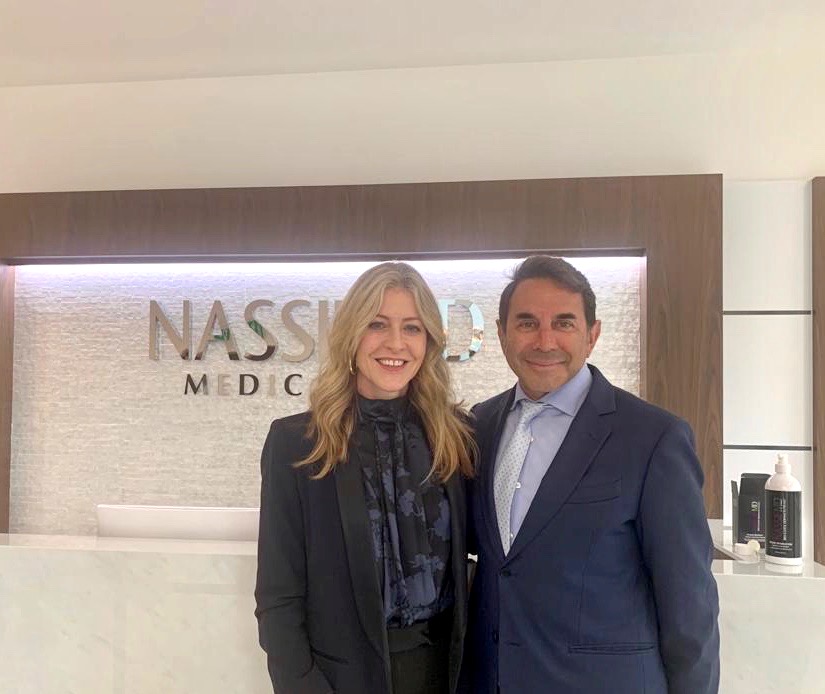 As one half of the surgical duo who sort out the worst-case patients on Botched, Dr Paul Nassif is a bit of a legend. As a Beverly Hills plastic surgeon and TV personality, he specialises – obviously – in facial plastic surgery, and particularly in revision rhinoplasty.
So why is he opening a 'medspa' offering non-surgical procedures in the UK, and why is his first UK clinic in Manchester? I had the chance to interview him on the day he launched the clinic.
The video of our chat is here. The sound isn't great – apologies – so here below is the gist of the conversation, in case you prefer to read it than listen.
A: Why have you opened your first UK Nassif Medspa in Manchester?
PN: Well really it's because of Amanda, who is managing the Medspa. She was actually my patient — I'll let her talk about what kind of patient she was – and she asked if I would like to partner up and open up a Nassif Medspa. We have one in Beverly Hills and the UK would be our second destination. So our first is here in Manchester and the second one will follow in London.
We're starting here first because Amanda is our partner, and we have got two great doctor injectors, Dr Steven Harris and Dr Jane Leonard, to oversee the training programme and we want to make sure the level of care is as safe as it can be.
What treatments is the Nassif MD Medspa offering?
PN: we have injectables – fillers and toxins – and skin peels, the Hydrafacial, some body contouring and lasers for facial tightening and tone. And we also have the NassifMD skincare line.
You're a cosmetic surgeon and famous for your revision work – why are you opening a non-surgical clinic?
Well remember we have a Nassif MD Medspa like we do here in Beverly Hills – the goal is to prevent surgery – in a matter of fact in about 10 more years I bet you there's going to be enough of the technology from the body contouring and the muscle-contouring and the face tightening and the body tightening that I assume we will do less and less surgery.
Non-invasive is always a good way to start. If you start with the minimally invasive or non invasive procedures now – our goal is to stall [ageing] and slow down everything down.
I'm famous for rhinoplasty because I do it on the hardest noses in the world. If people do want surgery, they can come to the Medspa and have a consultation via Skype. We do have a lot of UK patients that come to California.
The problem of selfie dysmorphia?
AHD: I wanted to ask you about 'selfie dysmorphia' – because I saw in a recent interview that you said we all have selfie dysmorphia these day, and I think I understand what you mean, because we are all taking so many more photos of ourselves, and being more critical of them. In your view, is this what's driving non-surgical business?
PN: I'm going to say yes in a positive and negative way. Before, patients would bring in photos of celebrities and say, 'Do this!' But now we have selfie dysmorphia – they are looking at pictures and wanting to be perfect. If they want to make their skin look as if it's filtered, then start with skincare. That's fine. But then they start morphing with the face-apps, and they change their nose, or make their lips look too much, they might be overdoing it, and that's where the dysmorphia comes in. Their self-image isn't great, then they do into a doctor's office and say, 'Can you do this for me?" So it's a filtered or morphed image of themselves that doesn't look good. But some doctors will treat them. So that's where you have to be careful.
What's the good aspect of it?
When you use a gentle filter and want that sort of look, we say: you protect your skin. Don't smoke. Drink a lot of fluids. Be careful to wear good sunscreen. Take care of your skin with exfoliation and hydration. There's a hydrator in most of my products.
What sort of patient group is Nassif MD Medspa going to attract?
The type of clientele the NassifMD Medspa will attract is hopefully patients who are educated enough to want safe procedures that give nice, natural-looking results. That's what I hope. Not blowing up your lips with three or four syringes! If patients can make themselves look and feel good with minimal risk and minimal downtime, that's the way to start.
What other things do you do to keep yourself feeling and looking good? You're always working out, aren't you?
I'm in the gym at 5.30am most days. I'm into intermittent fasting, I eat during an 8-hour window most days… and then I use my skincare products!