Answering your Dermalux Flex Questions – part two
21st November 2020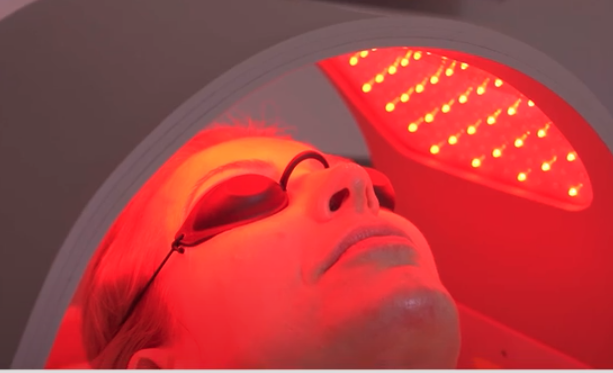 Following on from the first part of my conversation with Louise Taylor, who is co-founder of both the Dermalux brand and of Aesthetic Technology, the company that manufactures the devices, here are more of the questions that were sent in for the Instagram Live I did with Louise.

How does the Dermalux Flex compare to treatments in the clinic?
AHD: How does the Flex compare to treatment in the clinic, that's a question that I've had quite a lot because, if you go to some clinics they actually use the Flex as a clinical device, but others will use your bigger canopies, which are obviously more powerful.
LT: We launched the Flex in July 2019 and we very much promote it for professional use, but it is certified for home use as well, so it's in that bracket, whereas our larger devices couldn't be used in a home environment because of the higher level of power. We use the same wavelengths in all of our devices, the difference is the power. The Flex is just a lower power device, but lower power just means maybe more treatment or more frequency of treatment to see similar results.
Why Dermalux uses specific wavelengths – and why this matters
AHD: Okay, we will get onto frequency of treatment and why this light is good when other types of blue light or UVA aren't, but somebody's asking, does the number of LEDs make a difference? I mean, it does, but they've got to also be at that very specific wavelength because there's a lot of people in this area who say, "oh we use this wavelength it's well-proven" but you get much better results if you're on the actual wavelength that has more studies behind it, which I think is your one isn't it?
LT: Yes. It's all about the wavelength matching the target in the skin. So, it's a bit like a magnet – they've got to match together. If you're using it the wrong way then then you're not going to get the optimum absorption, so you're not going to see the same result. Wavelength is the number one parameter, the most important parameter really for results of phototherapy and then the next is power. Power is important but power is a factor of time so we can just do longer treatments or more treatments to see the same or similar results (with a lower-powered device).
How quickly can people expect to see results?
AHD: How quickly can people expect to see results because I must have used it about five times a week for 14 weeks, so that would be probably about 70 times, for about 20 minutes. I didn't always do the full half hour and somebody came back saying the clinic protocol she'd been told about would have been using it once a week. Did I have to use it five times a week, well, no, but I was sitting around at home and I wanted to use it as much as possible to see what it could do. Also it's very comforting and cheering and it's a stressful time. I find that it's a nice thing to retreat under. So, if you did one a week of these in a clinic, would still see results?
LT: It depends on what you're treating of course and the severity of what you're treating, that can really determine the amount of treatments and how quickly people are going to see results. And, of course, everybody's skin is different. With the Flex you can use it every day. We say for a more sensitised skin probably better to leave a day in between and but in reality in a clinic environment maybe they're having other treatments as well and it's in a combined protocol where they're having other you know other treatments and this is something ongoing so we'd say minimum once a week. The more treatments you do, the closer frequency, the faster the better and faster results you're going to see. It's a bit like going to the gym. If you if you go to the gym three or four times a week, you're going to see much, much quicker results than if you go once a week, so it's a similar principle.
Read part one of this Q&A here
Read part three of this Q&A here