I'm old enough to know not to judge a book – or indeed anything else – by its cover. And I was delighted to find a spa of any kind on Gili Gede, an unspoilt and un-touristy island off the south-west coast of Lombok, a couple of hours by boat from Bali. But even so, I wasn't expecting to have one of the best massages of my life here.
I'll write more about the resort further down here. But back to the spa. It looked delightfully straightforward – two treatment beds, and a couple of chairs for pedicures. I just asked for 'a massage' — there is no treatment menu of elaborate spa 'rituals' or 'ceremonies' here — and Mr Amat, dressed in traditional batik, appeared and, using a bowl of traditional, medicinal massage oil, set to work.
Having been too slowed-down by island life to get round to reading about him on the hotel's website here I hadn't realised that what he did wasn't in any way Balinese massage but Sasak, a healing massage treatment that is traditional to Lombok, but it soon became apparent. Rather than applying heavy pressure to delve into all the knots and kinks in my shoulders, he used stealthy acupressure techniques, pressing up and down the various energy channels of my back, arms and legs, identifying blockages then freeing them up more with persuasion (holding fingers on the muscles involved and shaking them gently) than force, tapping bits for emphasis and telling me 'Problem, here… here… here…' He was absolutely right about all the problem areas in my shoulders and lower back, and he wasn't keen on the state of my right arm, either.
I also hadn't known that Mr Amat is a local healer, from a long lineage of island healers, and when he's not making a living as a fisherman, uses his techniques to sort out everything from people's physical aches to mental struggles.
So that was all rather extraordinary, though the best bit came at the end, when he sat me up and worked up the sides of my neck, pulling my head and neck upwards (I swear I grew a centimetre), then clamped his hands firmly over my ears for about a minute. Reader, I could feel the energy zinging between his hands and when he pulled them away – how do I express this without sounding barking mad? — it was like having the plug pulled on a massive bunch of stress and tension (no, you wouldn't have thought I'd have any stress left what with being on holiday)… But seriously, I've never known anything like it, and I've had more than my fair share of massages over the years.
I tottered out of the spa feeling dazed, trying to ask Mr Amat questions about his work (he's not chatty and doesn't have much English) until he told me firmly, 'Go home now.' So I went back to my room and sat about feeling baffled by what had happened. What an experience! If you ever find yourself in this neck of the woods, I'd strongly recommend you try it.
Gili Gede – a rare gem of an unspoilt island
The Gilis (the word means island) are tiny islands off the coast of Lombok, and the northern ones – Gili Tranawan, Gili Air and Gili Meno are firmly on the main tourist-and-backpacker trail. But off the south-west corner of Lombok, there's another bunch of Gilis and the largest of these is Gili Gede. About 700 people live here, mostly in huts with woven-matting walls and palm-thatched roofs, though more solid, concrete-block houses are also being built. But you won't find many tourists unless they're at the beautiful and luxuriously appointed Kokomo resort which has only been open for a couple of years.
Finding Kokomo
We (well, my husband, who did all the work), found the place online and booked on the strength of the tripadvisor reviews here and it was every bit as good as billed.
The accommodation is terrific – we had booked a very nice-looking beachfront room – spacious, with a bathroom and a verandah — but were upgraded to an astonishingly luxurious private villa.
Not because I'm a journalist – we were staying/ paying as normal punters here – but because it's hotel policy.
The staff, most of whom are from the island, were all particularly lovely and the service was excellent and, maybe because it's a small resort, particularly friendly. Thank you Wayan and your brilliant team for making our stay so very agreeable.
The food was delicious. We were only here three nights but we could happily have eaten from this menu for a week without being bored of it.
There's even plenty to do, if you have the energy – there's a basic gym, a tennis court, kayaking and snorkelling above coral more astonishing even than anything I'd seen (well, I've only been snorkelling once but that was in the Maldives so it's a fair comparison). There's also a fair bit of plastic floating on the surface, oh dear oh dear, which has blown across from Lombok. Trouble in paradise.
We borrowed the hotel's bicycles and explored the bits of the island where the paths are cycleable. It only takes five minutes or so to pedal across the middle of the island to watch the sunset on the western shore.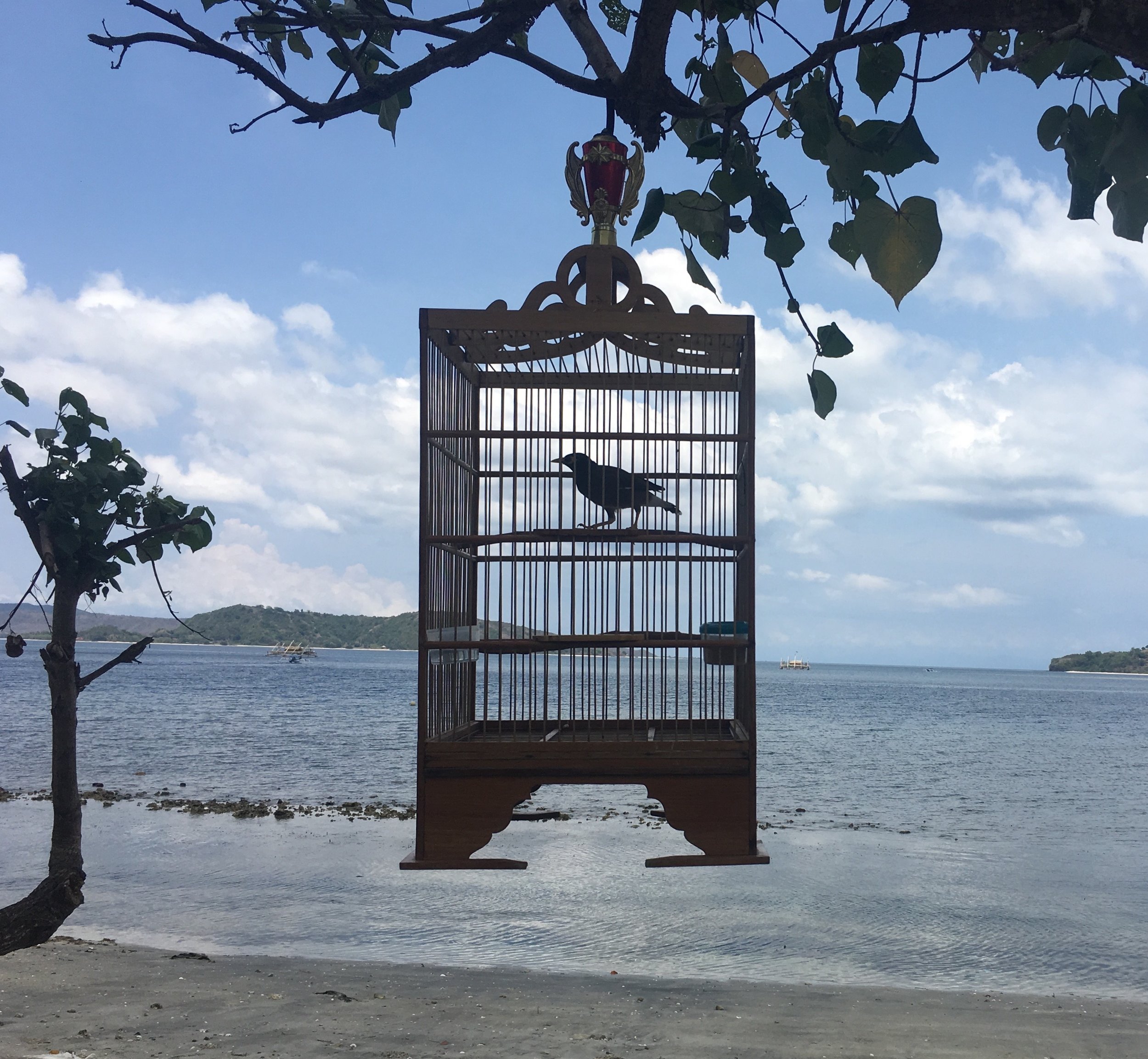 But mostly we just sat about enjoying the peace and beauty of it all. I have to say, we were captivated. One of the co-owners, Tony, said to us, 'If you come back in a couple of years, it will already be a different place.' I'd get there quick before it changes.