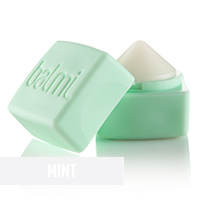 BALMI
What is it? A new company committed to inventing products specifically designed to be unique, but at the present time only have a lip balm (£4.99, boots.com) on their books.

What's the USP? The fact that it's a conical shaped lip balm in a wonderfully retro-looking cube shaped package. However, this is no design-over-function gimmick as the conical lip balm has been designed for easy use 'on the go' and blends Vitamin E, Shea Butter and Jojoba Oil along with an SPF 15 and UVA protection. It also comes in four flavours; coconut, strawberry, mint and raspberry.
I'd try… The mint one probably because I love the mint green packaging but also because it'll freshen breath as well as super-moisturise lips.