BEAUTE COSMETICS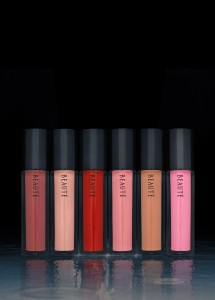 What is it? Gorgeous, lively, young-feeling make-up.

What's the USP? Vibrant, richly pigmented, high-quality cosmetics — beloved by celebs including Emma Watson and Leighton Meester.

Hero product? Weightless Lip Creme, £19, which looks normal enough but once you use it, you see exactly what it's all about. It feels soft and luxurious, it has a featherlight formulation yet it gives great coverage, it looks plump without being too shiny and it somehow manages to last.
Why the name? Apart from the fact that they're beautiful, the brand is the brainchild of make-up artist Beau Nelson.

How new is it? Well known in its native Canada but (I think) it has only been in the UK around a year.

I'd try… The lip creme. Being a cautious sort, I stick with Modern Love, the one at the left-hand end in the line-up. It might not look wildly exciting but I find I've been wearing it all winter, whenever I want something smart but not showy. Find it on www.love-makeup.co.uk.