BIRCH & BROOK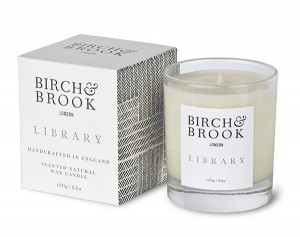 What is it and what's the USP? A British led luxury candle brand by Jessica Jones designed to appeal to both men and women. Jessica is inspired by the story telling power of scent and has created fragrant candles that evoke particular moments in time to give us the 'experience of scent'. 100% natural wax is used and they are free from petroleum and paraffin.
Hero product? The Library Candle (£32, birchandbrook.co.uk) which tells a story of discovery and contemplation. Cinnamon, clove buds, cedar and moss all recall a stolen afternoon, lost in the world of a long, forgotten book. Written on the box; "A time-yellowed page is turned; a clock ticks. Sunlight glances through a high window and another world calls…"
Why the name? It's compiled from old family names which Jessica felt reflected the ethos of the brand.

How new is it? It launched in November 2013.