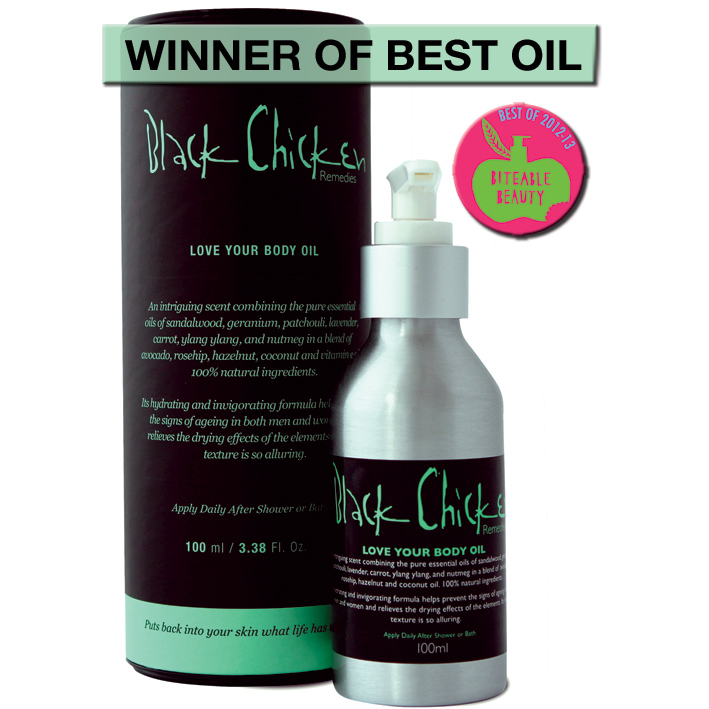 BLACK CHICKEN
What is it? An Aussie, organic skin care range created at Bondi Beach to target dry and dehydrated skin. It's inspired by life's vital ingredients; sun, sand, sky and sea and the fragrance has hints of the tropical "with deep surf notes and a lingering, luscious afterglow".

What's the USP? Chey Birch, the founder of Black Chicken wanted to find a way to reduce the chances of developing chronic health conditions and to assist the body in a natural way and harness the therapeutic power of natural oils, rather than using potentially damaging chemicals and synthetic fragrances. Black Chicken Remedies benefits are absorbed through the skin and the olfactory system to enhance wellbeing, physically and spiritually.
Hero product? Love Your Body Oil (£45.50, blackchicken.com.au or in Selfridges), which contains 100% natural essential oils and is also jammed packed full of fruit, plant and nut oils.
Why the name? It's based on the legend of the Black Chicken, an ancient crone, renowned for her healing touch and ability to transform her appearance at will. The legend says that people came to the Black Chicken with their problems and ailments to sit at her feet. Only those with good hearts were admitted. They told their stories and for each she had a little magic to share.


How new is it? It launched this summer in the UK.

I'd try… Balm of Ages (£23.09), a multi-purpose organic skin balm with 29 penetrating/restorative ingredients and when massaged into the neck during a shower or bath is said to counteract a dehydrated, drooping turkey (or chicken) neck.