…this is brilliant…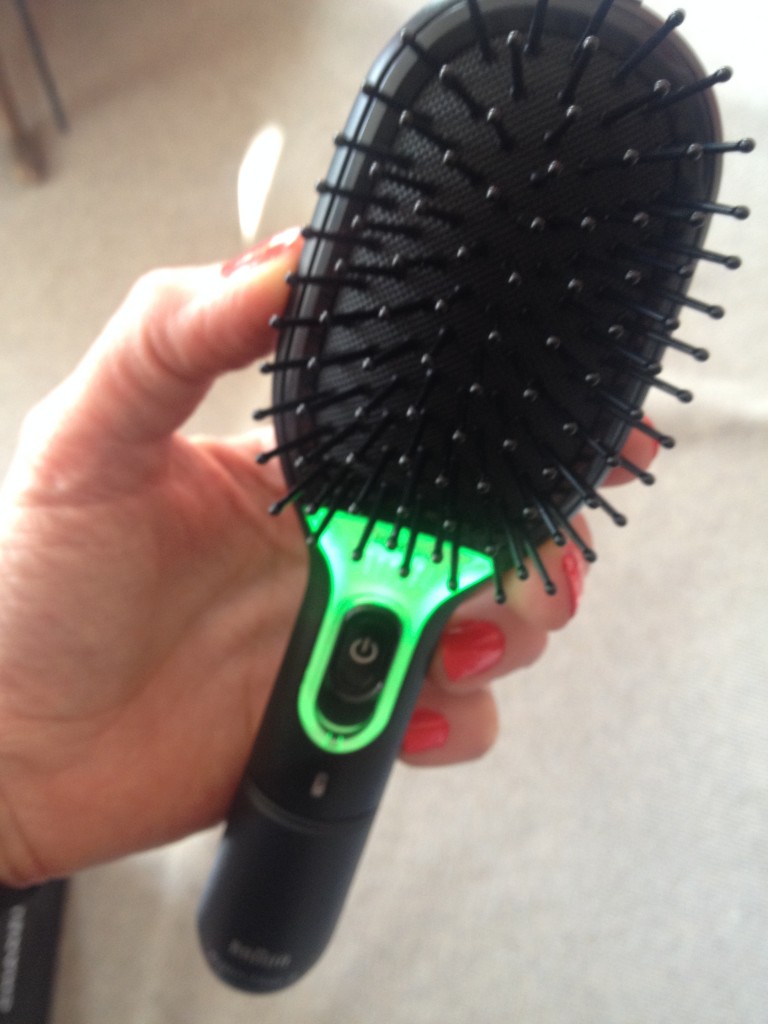 BRAUN HAIR-SATIN 7 BRUSH I do love a good gadget, and here is a great one — an 'ionic' hairbrush that makes your hair extra-smooth as you brush.

We've had 'ionic technology' in hairdressing for a while, in the form of hairdryers that release a stream of negative ions as they dry your hair, in order to make it smoother.
The idea is that the negative ions surround each hair and help the cuticle to stay closed, which makes the hair smoother and traps moisture inside it, which has the happy effect of giving hair more volume as well as making it more shiny.
Because these ions neutralise the static charge that can build up in hair (particularly when it is cold, or when you pull a top made with man-made fibres over your head) it is a good way to tame flyaway frizz.
Now, here's a hairbrush from Braun with 'Iontec' technology built in, and which powers up at the flick of a switch (it needs two AAA batteries to get it going and since you can't see/feel/smell those crucial ions, it lights up with a satisfactorily high-tech luminous green glow, to show that it's 'on'.
I've been playing with it on and off for a few months and have come to the conclusion that, yes, my hair is definitely smoother and shinier and more manageable when I use this for blowdrying my hair — regardless of whichever combination of shampoo/ conditioner/ hair oil I have used beforehand.
And I've come to be grateful for the auto-cut-out mechanism that switches the green light and the ion-stream off after five minutes, even if you haven't actually switched the switch off. The number of times I've picked it up and flinched to see I'd left it on… but the auto-cut-out means it hasn't exhausted the battery. Nice one.
Babyliss has just launched a similar hairbrush, also battery powered, but I haven't tried that one.
Braun Satin-Hair 7, around £30 at John Lewis, Argos etc