Can you afford NOT to wear sunscreen?
8th July 2017
I do hope, if you're reading a blog like mine and you are interested in knowing what really works to improve your skin, that you will already have got the message that if you need to wear sunscreen, every day.
What type of sunscreen?
A moisturiser with sunscreen, a hydrating primer with sunscreen, a mineral-powder foundation with sunscreen, I don't really mind, anything as long as it shields your skin. Any dermatologist will tell you that 90 per cent of what we think of as the signs of ageing – the wrinkles, rough texture, the age spots – is the direct result of years of exposure to ultraviolet light. Not just exposure to the 'burning' UVB rays you get from hot sun and holidays abroad, though that doesn't help, but everyday exposure to boring old grey and drizzly UK daylight, which bombards us with UVA light all year round, which slowly but gradually damages the skin and results in wrinkles etc. And stealthily damages the DNA of your skin cells. How far can you damage it before you get to the point where this damage tips over into the sort of cell mutations that lead to skin cancer?
Leading skincare scientist Mark Birch-Machin, who is professor of molecular dermatology at the Newcastle University institute of Cellular Medicine, likens this skin-DNA-damage to building a Jenga-type 'tower of damage' in your skin. How high you can go before it all collapses depends on your genes and your lifestyle, so it's impossible to predict.
So just wear the sunscreen. Please. Your future self will thank you. It's the single most effective product you can wear to improve your skin and protect it from damage now and slow down the rate at which it ages. And it's never too late to start. But back to which product…
There's a big old list of my favourites here, below, and here's a video with me talking about the products I have picked out, and why I like them, why mineral sunscreens have the edge on others in terms of skin health and how to keep up vitamin D levels while protecting your face.
So can you afford not to wear sunscreen? I'm sure you know the answer.
Everyday ones
Botanics Hydration Burst Hydrating Day Lotion spf15, £2.50 for 50ml, www.boots.com
Palmers Moisturising Day Cream SPF15, £7.99, www.feelunique.com
Olay Regenerist Luminous Brightening Moisturising Cream SPF20, £29.99, www.boots.com
Vichy Idealia Mattifying Dry Touch SPF 50, £16.50 www.boots.com
Superdrug vitamin E Cream SPF15 £2.99 www.superdrug.com
Primers with proper sunscreen
Laura Mercier Primer SPF30, £30, www.spacenk.com
Paula's Choice Resist Smoothing Primer Serum SPF30 £31, www.paulaschoice.co.uk
Urban Decay UD Urban Defense Complexion Primer SPF30 £23, www.urbandecay.co.uk
The 'Doctor-brand' sunscreens that are almost-makeup
Exuviance Sheer Daily Protector, £29, www.dermacaredirect.com
Epionce Daily Shield Lotion Tinted SPF 50 £45, www.epionce.co.uk
Alumier Moisture Matte Broad Spectrum Sunscreen SPF40 www.alumierMD.com
Lightweight spray-on sunscreens: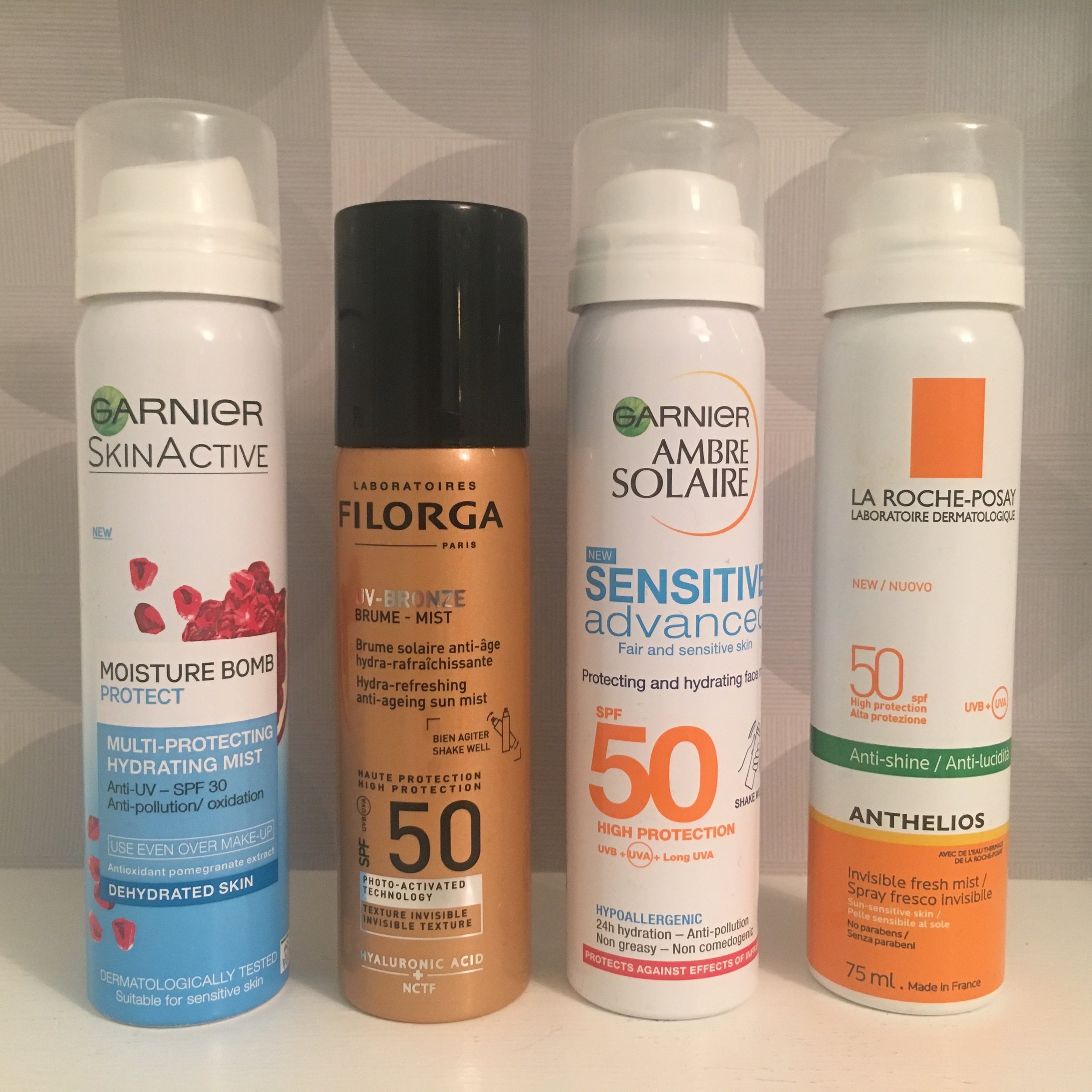 La Roche Posay Anthelios Invisible Fresh Mist, £10.50, www.boots.com
Filorga UV Bronze Mist, £29, www.marksandspencer.com
Garnier Moisture Bomb, SPF 30, £9.99, www.boots.com
Garnier Ambre Solaire Sensitive Advanced Protecting & Hydrating Face Mist, £9.99, www.superdrug.com
The super-sophisticated ones
Murad City Skin Age Defense, SPF50, £45, www.johnlewis.com
Skinceuticals Ultra Facial Defense SPF50+ £36.75, www.skinceuticals.co.uk
Chanel Daily Defender SPF50, £42, www.chanel.com
Dr Sebagh City Sun Protection SPF30, £50, www.drsebagh.com
QMS Cellular Sun Protection SPF50, £67, www.medicosmetics.com
Sunscreens for oily skin
Paula's Choice Resist Youth Extending Daily Hydrating Fluid SPF50 £32 www.paulaschoice.co.uk
Avene Cleanance Mattifying SPF50, £16, www.superdrug.com
Heliocare Dry Touch Gel-Touch SPF50, £25, www.effortlessskin.com
The new-technology ones
Skinnies – SPF30 Sun Gel, £29, https://skinnies.co/shop/buy-skinnies
Shiseido Wet Force Expert Sun Protection Lotion SPF50, £32, www.houseoffraser.co.uk
The Start-up
Ride Skincare, www.rideskincare.co.uk £11.99 for 50ml
The glam ones
Clinique Virtu-Oil Body Mist, SPF30, £25, www.clinique.co.uk
Piz Buin Instant Glow SPF 30, £8.99, www.superdrug.co.uk
Institut Esthederm Bronz RepairProtective £55 www.spacenk.com
Special mention…
for Riemann's P20, SPF30, which costs about £13 and which you can find at Boots, Superdrug and in lots of supermarkets because it's the only one my son will use
My favourites
Paula's Choice Resist Youth Extending Daily Hydrating Fluid SPF50 £32 www.paulaschoice.co.uk
La Roche Posay Anthelios Ultra Light, £10.50, www.boots.com
Ultrasun Face Anti-Aging & Anti-Pigmentation Sun Protection for Ultra-Sensitive Skin, £22.99, www.superdrug.com
Skinceuticals Ultra Facial Defense SPF50+ £36.75, www.skinceuticals.co.uk