CC Creams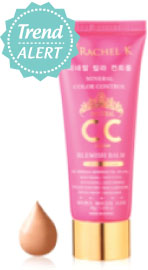 Last year it was all about BB creams. This year, the big skincare trend is for CC creams, with many big brands including Olay, Clinique and Chanel lining up their CCs for release in the next few months (If you haven't a clue what I'm talking about, see * at the end of this blog).
Where BB creams offered moisture, colour and sun-protection, CC creams offer… more moisture, more colour, higher SPFs… Plenty of people in the beauty industry feel that all of these products are just tinted moisturisers with extra bells and whistles, though every company that makes one strenuously denies this, pointing out the differences and benefits. Whatever. The point of all this preamble is that of the half-a-dozen CCs I've seen so far, most seem somehow familiar, as if they're but one that stands out as definitely different is the CC from Rachel K, a Singapore-based brand. It aims to deliver primer, moisturiser, brightener, repair (?), sunblock and foundation all in one and it certainly gives a really good, smooth, matte finish. It's only available from their website just now (www.rachelkcosmetics.com) but they hope to be selling it in the UK later this year.
*BB creams are all-in-one skin-fixers – the best-known one is Garnier's Miracle Skin Perfector – and they hit the UK in a big way last year. They first appeared, in Korea, as 'Blemish Balms' designed to be used on inflamed skin, or after cosmetic treatments. Not a sexy name but these curious hybrids put together ingredients that soothed and repaired the skin with moisturiser, sunscreen and a swash of foundation pigments and swiftly became something that women everywhere found they couldn't do without. 'CC' stands for 'Colour Correction or 'Complexion Corrector', and CCs usually offer more coverage and a higher sunscreen than BBs, with extras such as a green tint to tone down skin redness.