DR LEVY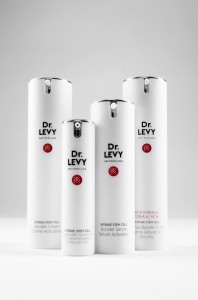 What is it? Super-luxe and super-high-tech skincare from Switzerland's Number-One Botox doctor.

What's the USP? The world's first skincare that has been scientifically proven to boost dermal stem cells.
Ok let's backtrack a bit here. Anything to do with stem cells — in skincare, as elsewhere — is both fashionable and exciting. And most products that claim to encourage ageing skin stem cells to act like sprightly younger ones are talking about the stem cells that are found in the epidermis, the upper layer of the skin (not least because the stem cells that lurk in the dermis, the lower layer of the skin, were only discovered in 2009). So a product that can act on these dermal stem cells is big news even if, so far, this action has so far been demonstrated in vitro, ie in a test tube, rather than in real life. If you want details, look at Dr Levy's website, www.drlevyswitzerland.com.

Hero product? Intense Stem Cell Booster Serum (430 Swiss Francs, www.drlevyswitzerland.com), which contains a patented active ingredient containing 10 ultra-potent anti-ageing and hydrating molecules.
Why the name? After the charismatic chap behind the brand. Dr Phillip Levy has been at the forefront of aesthetic dermatology for 30 years and is well-known internationally for his pioneering work in this area. Procedures like the 'Nefertiti neck lift' – done with Botox – are his invention and this year Tatler named him as the top international aesthetic dermatologist.


How new is it? Launched at the end of last year.

I'd try…? Any of it that you can get your hands on. As well as containing all those complex ingredients, the serum is fabulous to use — as it should be at that price. Dr Levy knows his market and knows it won't settle for anything less. He also knows where to catch his wealthy clientele. His three UK stockists are Dr Rita Rakus' Knightsbridge clinic, just opposite Harrods; Grace, the private women's club in Belgravia, and Farnborough Airport (private jets only), where I'm told it's selling like hot cakes.