Little Black Primer – the Little Black Dress of mascaras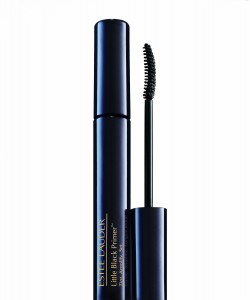 I've been meaning to blog about this product for ages – Estee Lauder's Little Black Primer, which launched in January this year.
It may be called a primer, but it is not one of those white, lash-bulking types of primer that you use before a mascara; this one looks and works like a mascara. What's different about it is the formula, and the way you use it. On its own, it makes a great light, 'normal' type of mascara (or what we used to think of as normal mascara, back in the day before mascaras became volumising and lengthening and all that). It gives lashes a definite tint and it's water-resistant, so it doesn't budge (I'm one of those people whose mascara usually finds a way to transfer itself off my lower lashes and smudge under my eyes, but this one doesn't, so I love it for that).
It's second trick is that you can build on it, layering another mascara on top – that's the primer aspect – and thirdly, you can use it over the top of your favourite mascara, as a water-resistant top coat. This seems to work, too, though I haven't yet put it through a getting-caught-in-the-rain type of trial. But for me, the real test of its usefulness is that it has taken up residence in my make-up bag and stayed there for months, despite some stiff competition from other contenders. So, yes, you might like it, too.