Semi-permanent make-up for eyebrows wasn't something that was on my list of personal beauty-projects until recently. For sure, I knew what a big difference tattooed eyebrows could make for anyone who has lost their brows through cancer treatment, or whose brows had simply faded with time.
Meeting Sian Dellar, semi-permanent make-up expert
Then Sian Dellar, who does permanent makeup for eyes and lips as well as microblading, and whose clientele includes several of the Made in Chelsea set, asked me to her Harley Street clinic to try it, and I found myself saying yes.
How do my brows measure up?
My brows aren't bad but as the years slip by I seem to spend more time tinting them and even then they need amplifying with a brow pencil or gel. I'm not looking for a Scouse brow or the full Cara Delevigne, but I would like to see what Sian would suggest to improve my middle-aged brows. Strong brows provide a 'frame' for the eyes and add definition to the whole face.
First, Sian measures up my eyebrows and draws in, with eyebrow pencil, some improvements, bringing the inner edges of the brow a bit closer to my nose and shortening the outer corners a fraction. She also shortens the outer 'tail' of the brow, to stop them making my eyes look droopy.
Next – the scalpel and pigment
Once the anaesthetic cream has taken effect – which takes about 20 minutes – Sian begins marking in my brows, making short neat incisions in the skin with a scalpel dipped in pigment. Each of these incisions makes a fine, hair-like line – you can see the new ones in the picture above on the right-hand side of the picture, where there are new 'hairs' nearest my nose.
Does it hurt?
And yes, it hurts. Not massively, thanks to the anaesthetic, but it's definitely uncomfortable but the scraping cuts are not deep enough to draw blood, thank goodness.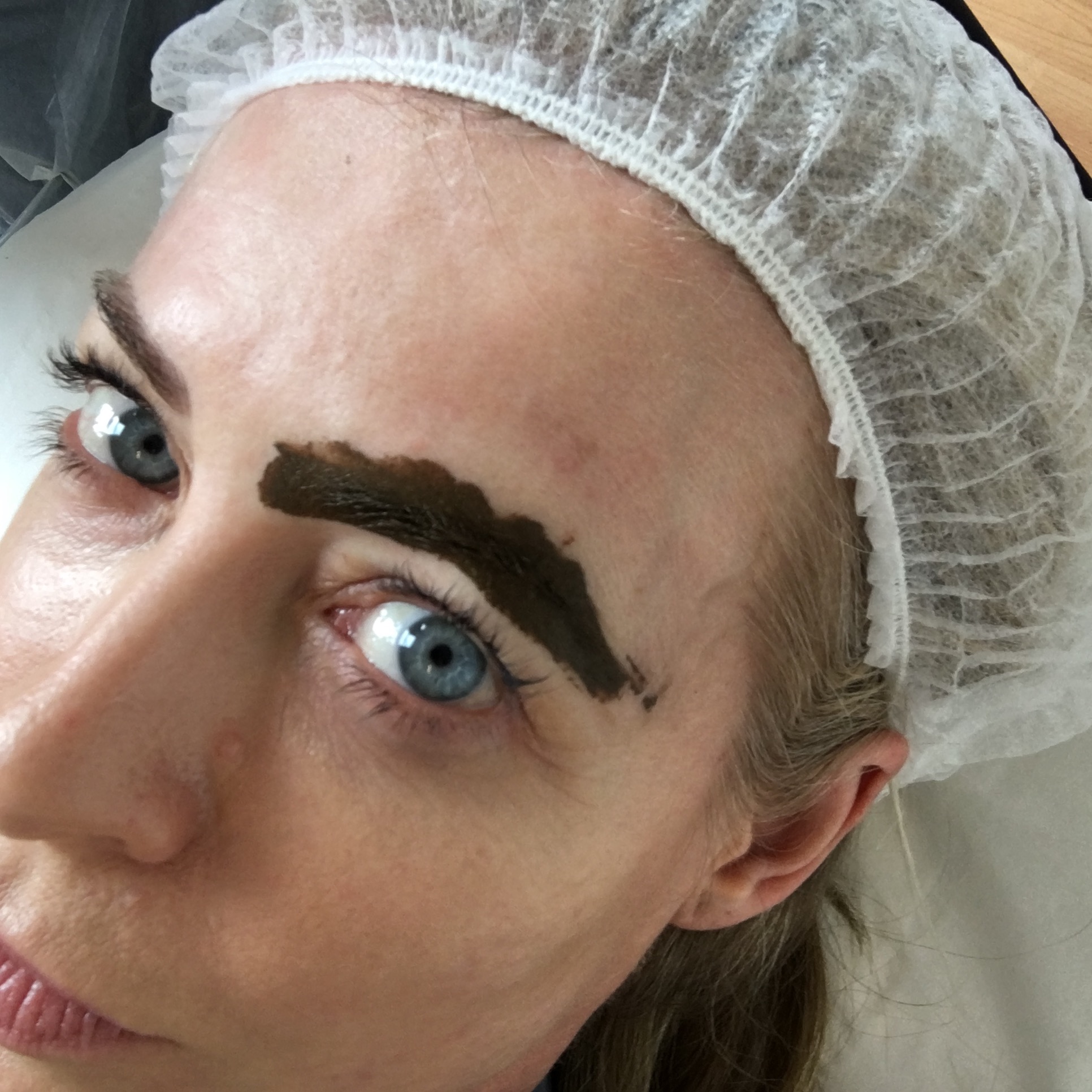 Next, extra tinting
Once the hair-lines are marked in to her satisfaction, Sian applies a thick layer of dye to my brows for a few minutes, to darken the existing hairs and add oomph to the incisions she has made.
Aftercare – keeping it all dry.
The whole appointment took less than an hour and the only difficult bit comes afterwards – in order to give the pigment the maximum chance to settle in to the skin, my new brows needed to be kept dry for a whole week. No splashing my face with water, no standing under the shower, no hot sweaty yoga. That was difficult. Also, they need to be left alone and not scratched, or prodded, or rubbed over with a cotton-wool pad, in case it makes the pigment flake off before it has fully done its job.
The final result is great. At first, my new brows seem overwhelmingly dark and too emphatic. Sian had warned me that they would look even darker the first day after they were done, but that this would soften over the next week (it did). I then went back a month later to have the whole process repeated (everyone is asked to do this), which makes the final result more settled.
Where and how much?
Sian Dellar's website is here – brow enhancement with microblading costs £495 and should last 12 months before it needs refreshing. I am really pleased with my results and reckon that as cosmetic procedures go, this is money well spent. Though as one friend who isn't London-based chided me, it is all very well for me to say that when I am given free treatment and am in the habit of writing about expensive procedures; in her view this would be a huge outlay for a treatment that would then need to be repeated annually, and I can see her point.
Here's a short video showing what it's like – you can watch it here or over on my Youtube channel