FAST HAIR GROWTH SHAMPOO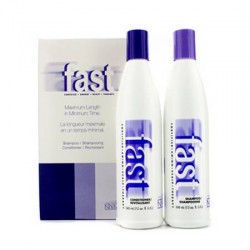 What is it? It's a Canadian brand consisting of a hair growth accelerator shampoo and conditioner (£24.99 for both, boots.com)

What's the USP? It claims that by using these two products will make your hair grow up to 99% faster. The two products work by feeding the hair essential nutrients, proteins and amino acids. It's particularly good for people with slow-growing hair or even for use by post-chemo patients to help boost their new hair growth.
Why the name? Despite what you might think, FAST actually stands for Fortified Amino Scalp Therapy.


How new is it? Just in at Boots this month.
I'd try it… Well, why not. I tend to think that products that are applied to the scalp and swiftly rinsed off can't do much in terms of improving hair growth – the growing goes on down in the follicles — but the brand has had plenty of rave reviews, so may well be worth a try.