GAZELLI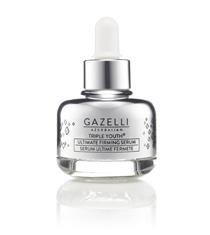 What is it? A luxury skincare brand from Azerbaijan that uses organic compounds and natural extracts blended with Gazelli's hero ingredient White Oil.

What's the USP? Gazelli is the only company to harvest and adapt Azerbaijan's rare skin-healing and rather mysterious 'White Oil', which is extracted from a '1000-year-old resource unique to Azerbaijan' which contains a high concentration of active components which are said to increase metabolic processes at cellular level and therefore help the skin regenerate itself.
Hero product? The Gazelli Ultimate Firming Serum (£75) which is a concentrate of the While Oil blended with extract of antioxidant wild pomegranate, firming lipoic acid and DMAE to plump the skin.
Why the name? The name Gazelli is derived from the word 'ghazel' which is an ancient form of Azeri lyrical poetry that praises beauty, youth and love.


How new is it? Launched in the UK in 2011, so not brand new, but definitely something you should know about

I'd try…? That serum or the Triple Youth cream, which is just lovely, too. Exclusively available at the Urban Retreat at Harrods. For more info, see www.gazellicosmetics.com.