GOLDFADEN MD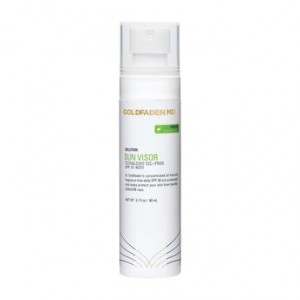 What is it? Premium, high-tech/ natural-actives skincare from a well-known American dermatologist, Dr Gary Goldfaden.

What's the USP? Bills itself as the "first physician strength, natural skincare line offering effective solutions without prescription".
Hero product? 'Needle-less' which costs a not inconsiderable £100 per 30ml and is sold on a "Botox in a bottle" promise, in that it claims to smooth lines with hyaluronic Acid (to plump up the skin) and anti-aging hexapeptides which soften muscle contractions in the skin.
How new is it? Just launched in the UK, into Space NK.

I'd try…? The Sun Visor (£40), a super-light, SPF 30 sunscreen spray. Not like a sun-lotion spray, all heavy and gloopy, but a spray so fine that no one could object to using it, and which you can put on over the top of your make-up without disturbing it.