Here's my new book – and it's all about skincare
1st October 2020
OK, deep breath, I've written another book. It's called Start with Skincare, because, even if you're thinking about tweakments, you need to get your skin in great shape first.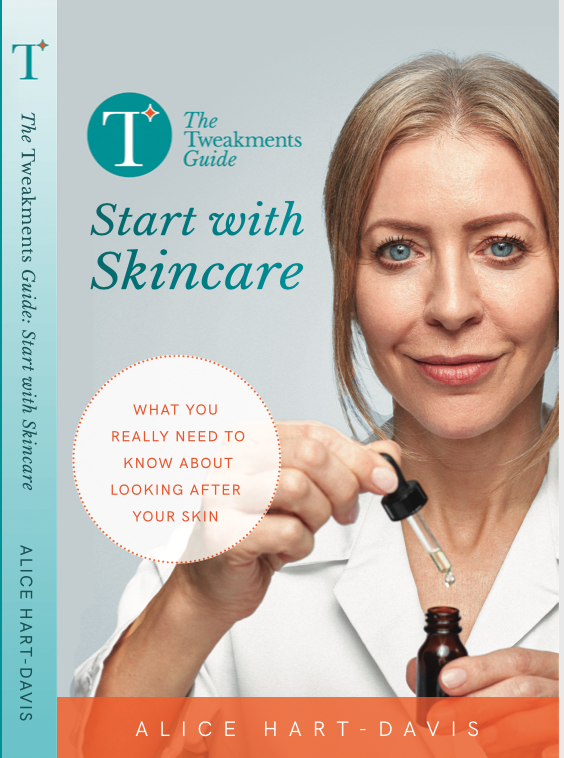 Cover credits : Photo by John Godwin, hair and make-up by Virna Baillie from a great shoot 18 months ago where we spent the morning trying out different shots in John's studio. I knew this was the shot for this particular cover and have sat on it impatiently ever since.
The cover design is by Jenny Woodhead of Gaia Design Studio into this lovely finished result.
Ever since my boss called me over to her desk on a London newspaper 20 years ago and gave me a jar of Crème de la Mer with a £115 price-tag, I have been fascinated by skincare.
During the past two decades, I have been sent press samples of innumerable different skincare products in all price brackets and been given many different facial treatments in order that I could write about them.
I began to learn what worked, and which products could provide actual proof – preferably in the form of proper clinical trials – that they did what they claimed on the tin. I've tried an enormous number of products over the years, and written about them for magazines and newspapers. I've won awards for my writing interpreting skincare science and attempting to explain it to readers.
It's an area that continues to fascinate me as the technology behind the ingredients becomes ever more focussed, and complex. Ingredients that turn the blue light from the devices from something that harms the skin into something that boosts collagen? They're on the way. Personalised products created to treat your skin's needs? They're here already, and they don't cost the earth. Serums loaded with ingredients that make up for the deficiencies in your skin's DNA? They're here too, and though the current versions aren't as exciting as they sound, they will surely be what we all use in the future. If we have the funds.
This book is for anyone – young or old, male or female – who is confused about what they should be putting on their face, when there is so much overwhelming choice, and so much conflicting advice about which products to use.
It explains what you need to understand about modern skincare to get the most benefit from it; the seven crucial rules for looking after your skin; the best products I've discovered, at low, medium and high price points and how to incorporate these rules into a workable daily skincare routine, which can be as simple or as complex, as cheap or as expensive, as you like. You will also find answers to the 12 biggest questions about skincare concerns – from wrinkles, melasma, rosacea and acne to large pores, rough skin and menopause.
It is a culmination of all I have learned so far and I am delighted to be able to share it with you.
It's all in my book, which is £9.95 on Amazon, and on my website, www.thetweakmentsguide.com