Being a beauty writer, I rarely go anywhere without sunscreen in my bag, even on a normal day. One thing that has sunk in over years of doing this job is that what really makes skin look older than it needs to is daily exposure to ultraviolet rays, and prevention is much easier than cure. And when I'm off on holiday, I end up packing at least half a dozen. No, probably a dozen by the time I've factored in the one my teen son is prepared to use (Rieman P20, because it is easy to apply, non greasy and is meant to last all day*), the ones my pale-skinned daughter prefers (Clinique's new SPF30 sunscreen for body and La Roche Posay's Anthelios SPF50 for her face); the ones that don't irritate my husband's irritable skin (various Skinceuticals ones) and anything new and interesting in the in-tray that I want to try out.
So, why pick out these three, above?
This Shiseido WetForce sunscreen is brilliant, thanks to some cunning new cosmetic technology within it which means that when your skin becomes wet, either because you're sweating, or you are in the pool, or there is a sudden tropical downpour, it doesn't just slide off the skin like many products, but binds more tightly to the skin. Which is interesting from a geeky point of view (it already an award winner for this cleverness); and means I trust it to stay put when I'm going windsurfing and am constantly being dunked in the sea.
It's a creamy white lotion that sinks quickly in to the skin so it's nice to use on the face, as well as the body and its full name is Expert Sun Ageing Protection Lotion SPF30 and it costs around £32 for 100ml.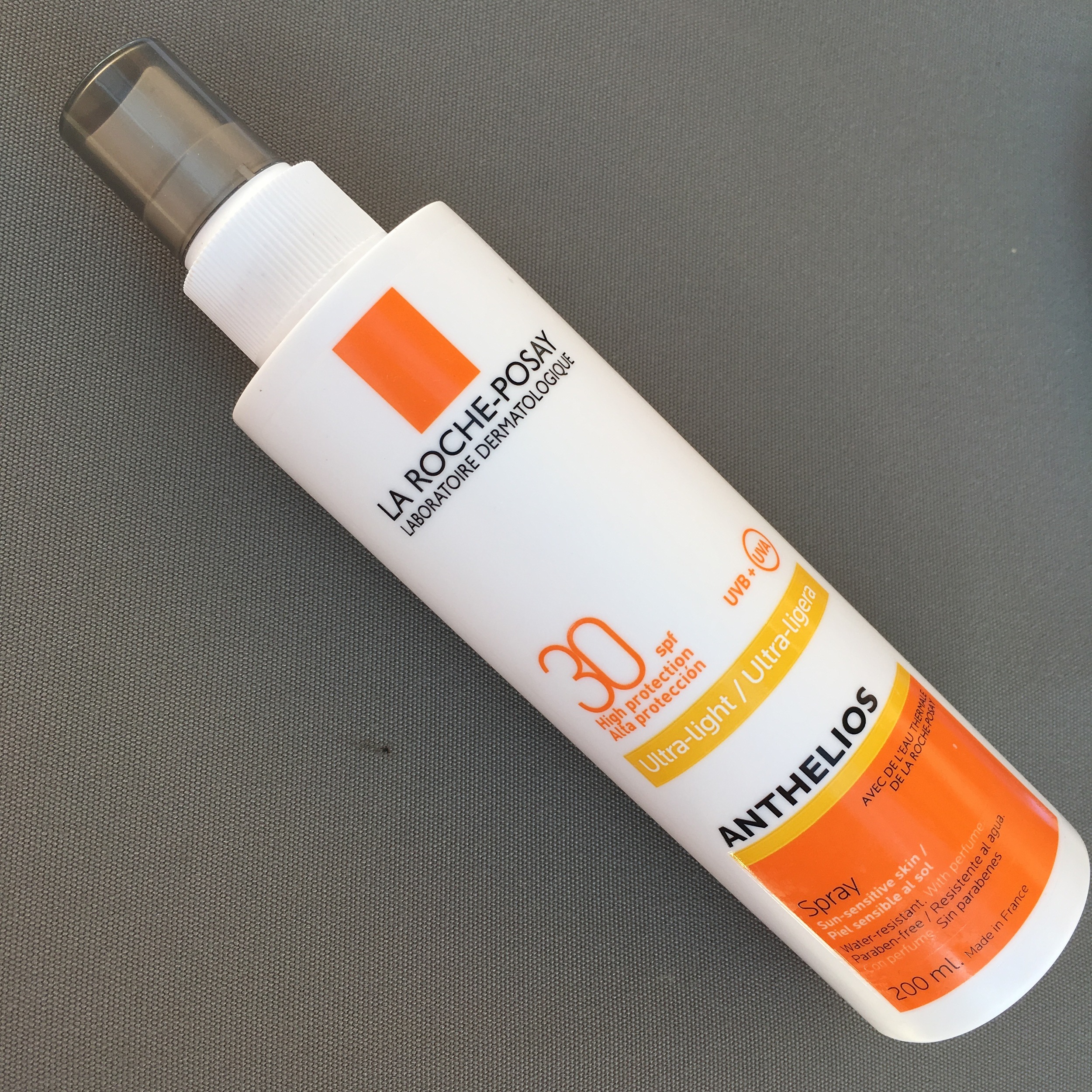 Then there's La Roche-Posay's Ultra Light SPF30 Spray (£17.50 for 200ml), a new addition to the brand's Anthelios range, which is an all round delight to use. It's a lotion which is easy enough to spray, and feels moisturising on the skin though it also feels super-light, so it's a great one for wearing, say, for a sightseeing trip where you absolutely don't want anything that feels remotely sticky. It bills itself as good for 'sun-sensitive skin'; La Roche-Posay products are great at managing sensitive skin so if you have skin that tends to kick off when confronted with sunshine, it's well worth thinking about. It's water-resistant, too, though that doesn't mean you shouldn't reapply it after a dip.
And then there's Piz Buin's 1 Day Long Long Lasting Sun Lotion SPF30 with high UVA protection (both the others above have high UVA protection, too). This usually costs £19.49 but it was on a half-price offer so I snapped it up, just because it's a great all-rounder, it's water resistant and I love the smell (OK, so maybe I have lack-of-sunscreen-phobia).
*One word of caution if you're using a product like this, or P20, with a 'long-lasting' claim. I know Piz Buin and other sunscreen makers take product testing very seriously and will have plenty of data to show that one application protects for six hours or whatever it claims on the pack, but out in the real world, where none of us, not even beauty writers, applies the 2mg of cream per square centimetre of skin that is used in lab tests (it doesn't sound like much, but it's a lavish layer) and where we swim and sweat and rub ourselves down with towels, or squirm about on sun loungers, I really wouldn't risk putting it to the test, but would advise reapplying it every few hours, and certainly after swimming. Dermatologists tend to dislike products like these just because they give us a false sense of security about staying out in the sun, which they would rather we didn't do. So perhaps see these long-lasting products as great formulas with added protection – but don't take them as an excuse to stay out on that lounger all day.