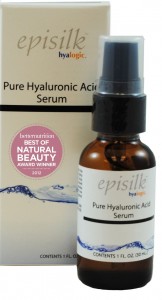 HYALOGIC
What is it?
A specialist American skincare company which makes high molecular weight hyaluronic acid through a natural fermentation process and then uses it to create different skincare formulas in-house.

What's the USP?
Hyaluronic acid is a molecule that can be found naturally in almost every cell in the body – but it's mostly concentrated in the skin. Almost half of the body's HA is in the skin, where it's described as nature's moisturiser because it's responsible for keeping the skin plump and smooth. HA is able to absorb up to 1000 times its own weight in water and also lubricates movable parts in the body such as joints and muscles.
Hero product?
Hyalogic Episilk PHA Pure Hyaluronic Acid Serum (£60.24 from healthyandessential.co.uk). which is light and non-oily yet intensely hydrating and rejuvenates the skin's suppleness and elasticity while smoothing fine lines and wrinkles. Also because you need so little of the product it lasts a long time. I found it sank in to my skin within minutes, so great to use in the morning. It was also described by Irish TV beauty expert Marissa Carter on TV3's Xposé Ask the Expert slot, as like a filler without the injections and "absolutely amazing for dry skin or sensitive skin".
It won a Best of Natural Beauty Award 2012 by Better Nutrition magazine for natural living.
Why the name?
Hyalogic as a name refers to the hyaluronic acid the company makes and uses in its products. The logic part of the name is because it makes sense to use HA – which is a natural anti-ageing compound.

How new is it? It launched in Summer 2013

I'd try… the Episilk Facial Mist with Hyaluronic Acid, (£20.04), a light mist to refresh and moisturise the skin without clogging the pores and which won the Best of Natural Beauty 2013 Award by Better Nutrition.