INFINATURA CURA OIL
by Karen Heath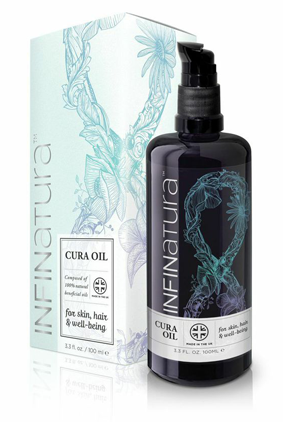 Beauty oils are definitely on trend at the moment, but they also seem to be the 'marmite' of the beauty world. I love them but I've come across some well-known beauty editors who hate them and blame them for spots, greasiness etc.
However, if oils are your thing then you may find Infinitura Cura Oil a brilliant multi-tasker either as an SOS go-to or as a regular head-to-toe essential.
A blend of eight oils; camellia, argan, red mondarin, bergamot, sunflower, crambe abyssinica, vitamin E and geranium, this product promises so many things it's almost quicker to tell you what it won't do. It won't make beds, do the washing up or put the kids to bed but it will fight lines, lessen wrinkles and imperfections, relieve eczema and psoriasis, combat stretch-marks, fight free radicals and moisturise, nourish, strengthen, smooth, heal and rejuvenate skin, hair and nails. Phew!
We love the pump bottle that makes it impossible to pour out too much or worse, spill (we've all been there!) and the oil is light, smells delicious and absorbs really well into the skin.
Find it at Infinatura.com for £35 for 100ml