JIVESSE
by Karen Heath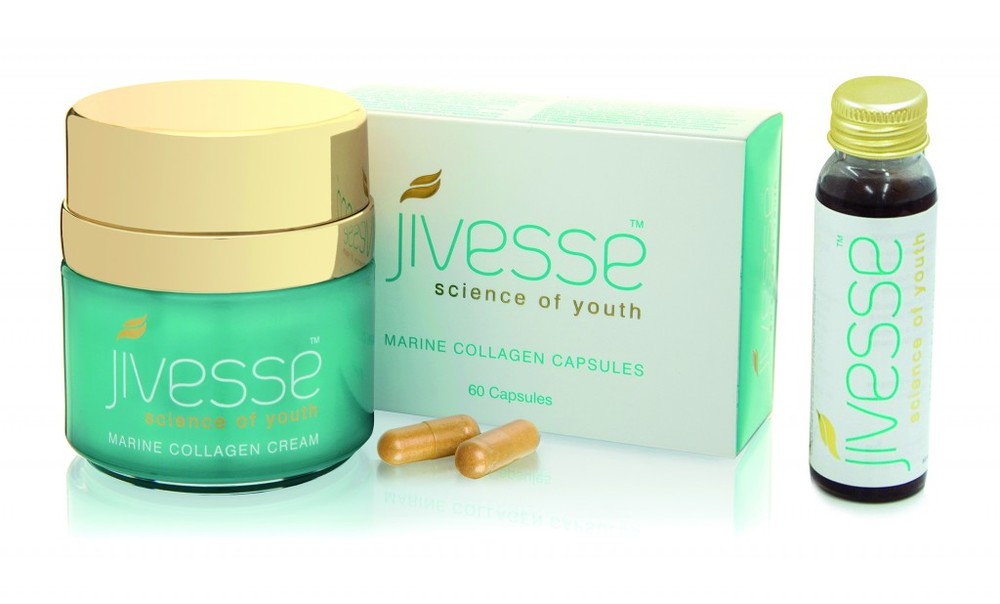 What is it? An anti-ageing system based on marine collagen which contains the absorbable peptide, Peptan, and includes both topical and ingestible products to reduce the appearance of wrinkles, improve elasticity and hydration so that the skin appears firmer and more youthful. Bio-actives also help fight the effects of free radicals and helps provide UVA sun protection.
There are three products in the system;
Marine Collagen Cream (£80, harrods.com), containing actives such as Acetyl Hexapeptide-8 and Kakadu Plum.
Marine Collagen Capsules (£45, jivesse.co.uk), which as well as Peptan contains vitamins A, C, green tea, Co Enzyme Q10 and turmeric – all well known ingredients to help fight pollution, free radicals, wrinkles and loss of hydration while promoting cell growth and supporting a healthy digestive system.
Marine Collagen and Essential Herb Elixir (£50, jivesse.co.uk) containing 500mg of Peptan collagen in each bottle, as well as extracts of Horsetail and Ginseng to boost collagen production and vitality of the skin from within. Low calorie and with no added sugar and contains actives of blackcurrant extract, seaweed and camomile.