JOAN COLLINS – TIMELESS BEAUTY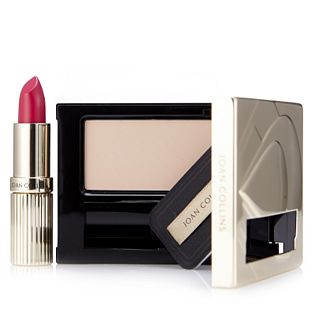 What is it? As one of last of the old-time, glamorous Hollywood stars, Joan Collins still looks fabulous as she enters her ninth decade and now she has launched her own range of skincare and make-up to share with us some of the secrets she has gathered over the years.

What's the USP? It's a Hollywood-inspired collection including Contra Time skincare, cosmetics and I Am Woman fragrance. Joan has drawn from her many years being taught by industry experts and has taken advantage of the latest scientific skincare ingredients, which have been included in both the skincare and cosmetic products. As Joan herself says, "Beauty is not just for the young. I believe with a little care and attention any woman can look good through her 40s, 50s, 70s and beyond. Looking good and feeling great is the right of every woman no matter how old she is. Beauty is timeless."
Hero product? The Paparazzi Ready Duo-Compact (£34, qvcuk.com) with a pressed powder and lipstick in the most divine Art-Deco inspired gold compact that is just made for retouching make-up in the back of a black cab or at a glamorous restaurant table, just like a film star.


How new is it? It has just launched.