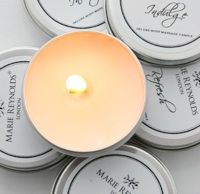 What is it? Luxury 'Aromawax' candles, but these are…
What's the USP? …luxury MASSAGE candles, for the body and the hair. Yes, let your mind boggle. They're made of organic soya wax and are full of moisturising ingredients like shea butter and argan oil and have a low melting point. That means if you haven't the inclination to light them and melt them before using, you can just scoop them out, soften the waxy balm in your hands and massage it all in.
What are they like to use? Gorgeous. 'Richly indulgent', you might say, though a bit sticky if you overdo it. Also, they make a mean body-scrub if you mix in a handful of salt, and a decent lip balm if you don't mind tasting the essential-oils fragrance.
How new? Launched September 2012
I'd go for… the collection of six travel candles, one of each fragrance, in neat little screw-top tins, £30