It's all about the DNA in beauty at the moment – whether it's analysing your genes to see where they are letting your looks down (more on this another time, as I've had a private tour of the Procter & Gamble beauty tech labs in Cincinnati where they do the very latest research into genomics, aka the way our lifestyle and environment affects our genes that control how our skin behaves and ages, and it's really fascinating) or, for the purposes of this post, protecting and repairing our skin cells' DNA, to keep it in better health – and, yes, looking better too.
This colourful line-up is the DNA Renewal range from Dr Ronald Moy, who is one of the best-known and best-respected dermatologists in the USA, and who, when he is not performing delicate skin cancer surgery at his clinic in Los Angeles, does cosmetic surgery on some of LA's most famous and beautiful faces.
Dr Moy is a former president of the American Academy of Dermatology, and has a special interest in skin cancer prevention. Over years of studying the field, one question constantly needled him: we are all so much more clued up about skin protection and using sunscreen these days – so why are rates of skin cancer continuing to rise? His view is that this is because the one thing the SPF and UVA-screens in skincare doesn't do is protect the skin's DNA, which is damaged by ultraviolet rays and which struggles to repair itself. Hence, his DNA Renewal line is built around special ingredients called DNA-repairing enzymes, which help not only to undo immediate damage to skin (say, from a sunny day) but also old damage from years past. Clinical trials, to demonstrate this, are in progress. Meanwhile, one nice anecdote about what the product can do: when Dr Moy and his wife were on holiday, she got a touch of sunburn on her back (yes, even dermatologists' wives sometimes stay out that bit too long in the sun). In the interests of research, Dr Moy treated half of her back with his DNA Renewal products – and watched with satisfaction as the sunburn cleared within 24 hours – but not on the untreated half.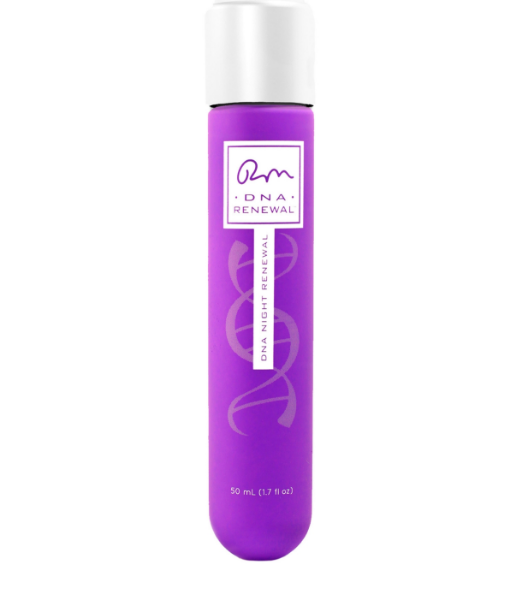 Another key ingredient is epidermal growth factor, or EGF, which helps ageing skin cells to behave like livelier, younger cells. I've written at length about DNA renewal and Dr Moy in YOU magazine (see the article here) if you want more detail. What I wanted to say in this post was that as well as being based on cutting edge skincare science and immensely good for your skin, these products are a thorough pleasure to use. I've tried out several of them – the blue DNA Regeneration Serum, the yellow Sheer-medium Intense Moisturiser with sun protection, and the purple DNA Night Renewal cream, and absolutely loved them.
The products are available at CultBeauty.co.uk and they're not cheap – the tinted moisturiser is £40, the regeneration serum is £85 and the Night Renewal cream is £82, but if you are into spending on skincare, this is a wise investment.