MIO SKINCARE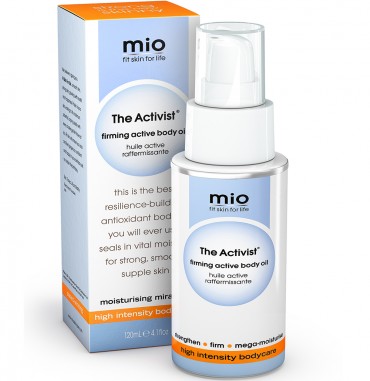 What's the USP? 'Fit skin for life', aka high intensity body care, aimed at the fitness-and-wellness market. It's a whole new brand, or at least a new brand within a brand, from the clever women who brought Mama Mio skincare into the world.
Hero product? The Activist, a firming, moisturising, smoothing body oil (£29.50 mioskincare.co.uk) which smells delicious (lightly citrussy) and sinks in exceptionally well on dry skin, though what the brand recommends is using it sparingly, after a shower, to seal moisture into damp skin. Probably a good idea as there's only 30ml in the bottle and a pair of dry legs could easily slurp up a whole teaspoonful.
How new is it? Just launched.

I'd try… As well as that fab oil, I've cadged a sample of Liquid Yoga (£26; couldn't resist the name), a 'restorative bath soak' which smells deliciously minty yet warming, and contains epsom salts and arnica to help relieve aches and pains, along with anti-inflammatory and moisturising ingredients. Lovely.