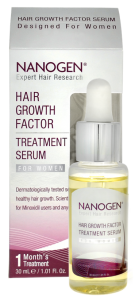 NANOGEN
What is it? New range of haircare for fuller, healthier hair.

What's the USP? Scientifically proven range of products that use high-tech growth factors to deliver instantly thicker, smoother hair and long-term healthy hair growth.
Hero product? The Nanogen Treatment Serum (£29.95 at Boots and www.nanogen.co.uk), which contains growth factors – identical copies of the body's own hair-growth signals — that encourage healthy hair growth. In consumer trials, 88% of the women who tried it saw noticeable hair thickening within a month, and and further clinical trials showed that Nanogen improved hair growth 237% more than the previous best treatment, which was used as a control.
Why the name? Because it sounds suitably high tech – not because it contains nanoparticles of anything (it doesn't).


How new is it? Launched a couple of months ago.

Not one for me to try… because lack of hair volume isn't one of my problems – but I'd love to hear from people who have tried this.