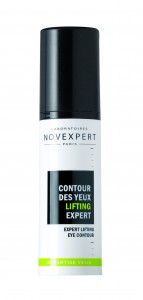 NOVEXPERT
What's the USP? A groundbreaking, unisex 'doctor brand' of skincare, whose essential ethic, I'm told, is 'the duty of excellence and a standard filled with passion'. Essentially, it's high-tech skincare developed by four doctors who worked for famous cosmetic and pharma companies, and who were determined to create products focussed on efficacy rather than fashion.
Hero product? The Lifting Eye Contour serum (£32, through www.novexpert.co.uk for now though it will soon also be available in department stores and chemists) which aims to give a 3-D lifting effect by tensing and plumping the skin, and includes a patented ingredient which improves collagen production in the skin.
Why the name? Because it means 'new experts'. Fair enough


How new is it? Launched in the UK this month, after three years of growing success in France (it has already won three industry awards).

I'd try…? Whatever you can get hold of. The Anti-Dark-Circle Contour cream (£20) looks great, too, with a three-tiered approach to thicken under-eye skin, improve microcirculation and reduce the leakiness of capillaries.