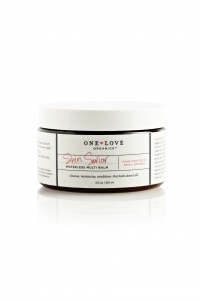 ONE LOVE ORGANICS
What is it? .
A natural, ethical and environmentally driven, but simple cosmetic brand by beauty alchemist Suzanne Leroux. It uses organic, high quality ingredients to protect, repair and enhance the skin in just a few products to give the skin what it needs without cluttering up the bathroom shelf.
Hero product?
Skin Savior (sic), (£29, oneloveorganics.eu ) a waterless, multi-tasking balm that can be used as a face cleanser and moisturiser, a cuticle conditioner, a soother for cracked heels and lips and a smoother for dry ends.
Why the name? Suzanne and her team wanted a name to reflect a business that was ethically based and helped people on a daily basis.

How new is it? It launched in July 2013

I'd try…
Morning Glory Brightening Complexion Booster, (37) which contains all sorts of yummy ingredients such as Raspberry Leaf to stimulate, tighten and tone and peppermint and lemon balm to brighten and depuff, and Omega 3 fatty acids to smooth fine lines and shield from environmental damage.