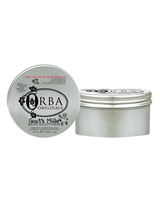 ORBA ORIGINALS
What is it? 'Naturally no-nonsense skincare' is what it calls itself.

What's the USP? Products created using pure, reliable ingredients, and made without causing cruelty to animals, or, the company adds, to your skin. Founder Marva Williams took inspiration from her Guyanese grandmother's knowledge of natural remedies, and put these into practice when she developed her range of products — her original aim was to make something that would soothe her grandmother's dry feet, without making the skin greasy.

Hero product? Goat's Milk Skin Soother. Goat's milk extract has, I'm told, a similar pH to human skin which makes the product readily absorbed and, because it helps lock in moisture where it's needed, helps it to give relief from dry-skin conditions such as eczema and psoriasis.
How new is it? Not new at all, in fact the company has been going for 17 years, but (shame on me) I've only just discovered it thanks to MyShowcase.com — a new beauty-selling concept with really gorgeous brands — so I thought I should wave it under your noses, too, because…

I really… can't get enough of this Goat's Milk Soother (£11.99, myshowcase.com). It's a beautifully light cream which spreads easily and absorbs in a flash and smells – lightly, fleetingly – of essential oil (Geraniol). It also feels soothing and calming on irritable skin that needs an extra dose of TLC