PHYTO POP-UP at Fenwick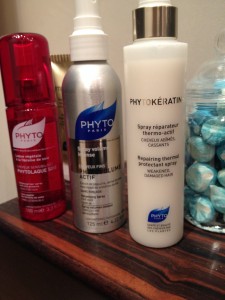 THIS JOB involves a lot of lovely blow-dries (tough, I know) and occasionally, blow-dries with added bells and whistles… Today, Phyto, the French botanical haircare specialists, staged a cute little pop-up event at the blow-dry bar normally occupied by Gielly Green, on the ground floor at Fenwick, New Bond Street.
What made it more than just another lovely treat was the presence of Paula Halsey, national education manager for the brand, who was wielding a laptop with a device attached that turned out to be a kind of microscope-camera. 'Have you ever had your scalp examined?' she asked fiercely as she burrowed the thing around my head. I hadn't, but was intrigued to see what it looked like under 200x magnification. In short, fascinating – where she showed me three hairs sprouting from the same follicle, and a bit revolting where she showed me 'congestion' in the form of skin growing all over a follicle, the way a rampant cuticle might edge its way up an unmanicured nail. Turns out there is a reason to use 'detox' or 'clarifying' shampoos, even if you don't load your hair up with styling products.
There followed treatment with a scalp-cleanser (Phytopolléine), which smelled strongly and sharply of rosemary – delicious – along with a spot of nourishing hydration with Subtil Elixir before a fab, bouncy blow-dry with the various smoothing, protecting and volumising products shown above. After which it looked like this and, despite the wind, still does.