I don't normally bother with using a separate neck cream. But this one arrived with such an outlandish claim – that it would make a visible difference to the skin on my neck within seven days – that I was provoked into giving it a whirl.
Could it possibly do this? The product – the Ageless Throat and Decolletage cream from Prai, looks luxurious and expensive though in fact it costs £19.99 and has just gone into Boots, so as wonder-creams go, it is decidedly affordable.
The product feels lovely – it's light in texture, like a gel-cream hybrid – and it has a bunch of useful ingredients – there's one called Sepilift to restore elasticity to the skin and support collagen, the protein that keeps skin firm – but here's the thing; any wonder ingredient claiming to make a fundamental difference to the skin will take a while to go to work. It has to sink into the skin, stimulate the skin cells to produce firmer, stronger skin, and it takes at least a month before these new improved cells rise to the surface of the skin. All most creams can do in a week is improve the hydration of the skin, which plumps it up and makes it look better by making the skin hold onto more moisture. It's an improvement, to be sure, but it's not a major structural change.
And though I don't use a special neck cream, I always use a moisturiser on my neck (neck skin is thin and dry, so it needs it) and sunscreen (why would you not want to protect dry, thin skin that is already prone to wrinkling from a daily onslaught of ultraviolet rays?). So in short I didn't think the cream could possibly make much difference in a week.
So I took some before pictures, used the product twice a day and a week later, took some more. It looked much the same to me until I put them side by side. I have to say I was surprised.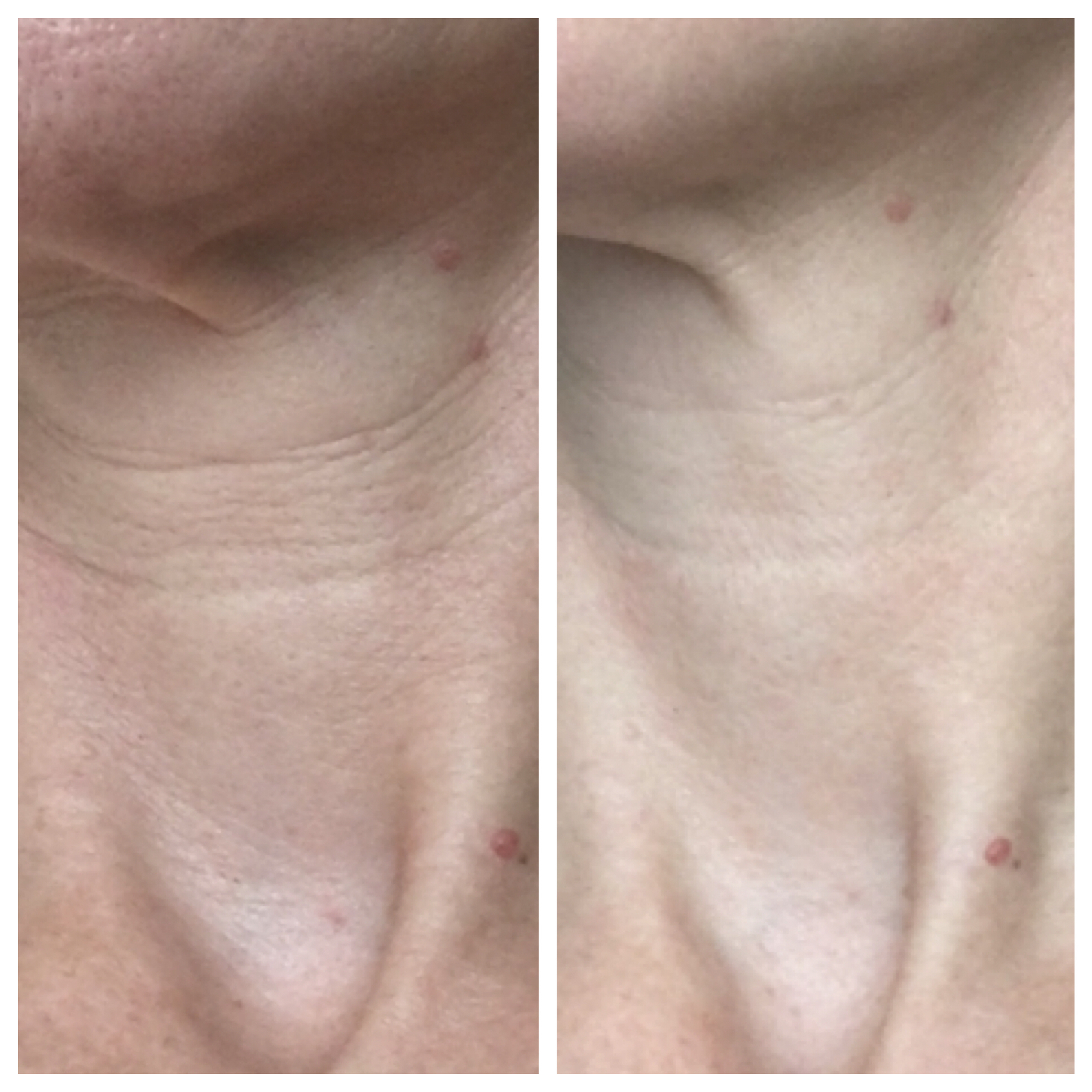 I know the lighting isn't exactly the same (and this was in late September, so the remnants of holiday colour were wearing off) but you can see that in the one on the right, the 'after' picture, all those lines and creases look much less entrenched. So I was really impressed.
So impressed that I have included the product in a Years Younger beauty box that I've put together recently with a company called All Boxed Up (link here if you're interested, you get four great products, worth over £100, for £28.99), and I've done a short video on neck creams and why I liked this one on my youtube channel, here.
Or, as I said, you can find it in Boots.