Giving the new Proskins kit a whirl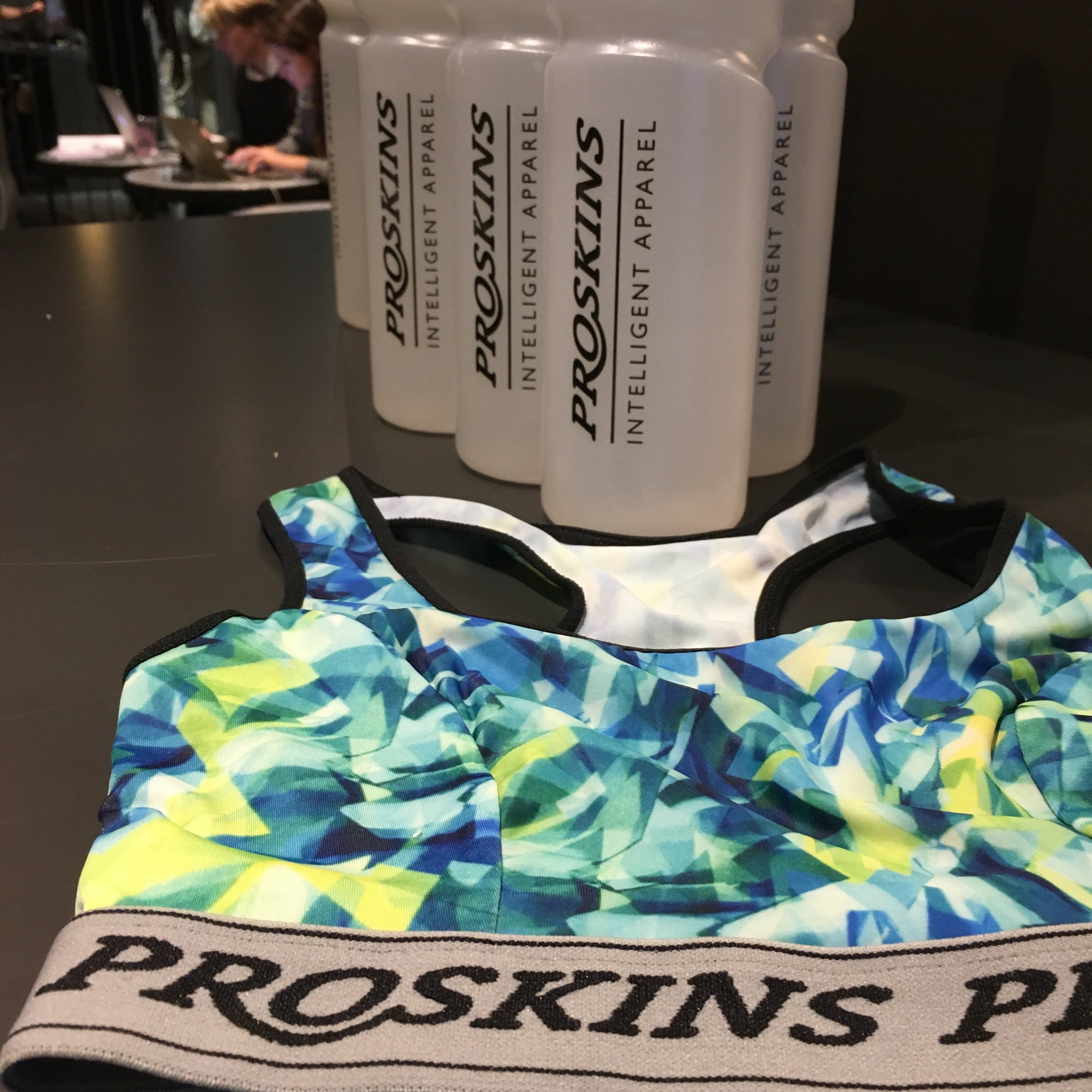 Would I like to join an exercise class with Kirsty Gallacher, the TV presenter who is a new ambassador for Proskins, and try out the company's new workout gear at the same time? Well, why not? I've been a big fan of Proskins for years – here's a piece I wrote on them in 2011 – and tend to live in their long, snug, stretchy, high-waisted black leggings all winter (they work well as an insulating layer under jeans, or instead of opaque tights under a dress, and are just as good in the hot yoga studio because their temperature-adjusting technology keeps you cool when it's hot and vice versa).
The new kit – which most of us are wearing in the picture below — comprises pretty patterned crop tops, sleeveless V-neck ruched vests and matching leggings. It looked great but alas the one thing it couldn't do was make a rather tough circuit-training any easier. Kirsty sailed through it – she's the elfin brunette next to the trainer in the top row. So the new kit is nice enough, apart from annoying inside seams that curve down over the ribcage in the vest, though it's a flattering fit. I'll keep it for photo-opportunities, and stick with my long black leggings for everyday wear.
Five-step haircare – is that mad?
Pre wash, shampoo and conditioner, post-wash conditioner and heat-protection spray…
The beauty world is constantly inventing new categories of products to deliver supposedly extra benefits and working hard to convince us that we need them. And I'm obviously a real sucker for all of this – it's my job to try all this stuff out, after all – but it was still a bit of a surprise to realise I now feel it's necessary to use five stages of products when washing my hair. First, there's the pre-wash strengthening treatment – last week, it was Olapex, which is brilliant at rebuilding the 'disulphide bonds' in the hair which get trashed by colouring and heat treatments; then there's shampoo and conditioner – Maria Nila is a lovely, indulgent range from Sweden that very much does what it says on the bottle. After that and a bit of towel-drying, I slap on some extra conditioner, because my hair is long and needs all the moisturising it can get – this coconut cocktail from ColorWow just gives that extra bit of help keeping the hair shafts smooth.
And finally, I use a few spritzes of a protective spray to lessen the impact of blasting the hair with a hot dryer. I love this Philip Kingsley Daily Damage Defence, not least because its spray nozzle dispenses a lovely fan of spray rather than a jet or a squirt, so it covers the hair more evenly. Yes, doing all this slightly makes me long for the good old days of Wash'n'Go, but then I also know that doing all the above is what really works for my hair right now.
The joy of new spring make-up
The view out of the window has been so utterly bleak for the past few days – leaden sky, bare still branches, dull light – that the chance to play with some of the new bits of make-up — the beauty equivalent of the green shoots of spring. 'There will be sunshine,' they suggest; 'you will want to wear something other than grey clothes and orange lipstick…; so they are a real psychological boost as well as being just plain pretty.
The two above are 'Gradient' lipsticks in the Dior Addict range, Coral Twist on the left and Peach Twist on the right (£26.50 each). These have lip-care oil added to the formula and a lighter shade in the centre for a tone-on-tone effect, though how that looks to me is just a lovely peachy high-shine finish
And here are Chanel's new pinks; from left to right, Sea Whip nail varnish (£20), Blush Stick no23 from the Les Beiges range (£34) which is gorgeously smooth to use and has gone straight into my make-up bag, Rouge Coco Shine in Golden Sun (oh, if only!) (£28) and Coquillage nail varnish.
Introducing… the Zerofat machine
How bizarre is this, then? It's a recumbent exercise bike set in the middle of giant infra-red heaters; it's called Zerofat and I tried it out last week to write it up for a newspaper. I'll link to the piece once it's online.