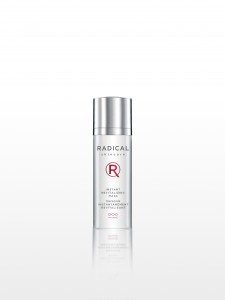 RADICAL
What is it and what's the USP?
An American anti-aging skincare regime which is the brainchild of Liz and Rachel, daughters of Dr Richard F Edlich, a renowned Professor of Plastic Surgery. Both girls worked in their father's lab at the University of Virginia Burn Unit where they became interested in the science of skin rejuvenation and wound repair at extreme levels. However it wasn't until they saw the signs of aging in the mirror that they challenged their chemist and scienstist friends to create an anti-aging solution regardless of cost and with no original intention of selling this youth elixir to the larger public. They identified the prime defect in most anti-aging formulas which is that the potency diminishes when the ingredients are put into a cream. With a proprietary technology called Trylacel™ which suspends and preserves potency, they corrected it, perfected it and then clinically tested it.
Hero product? The Eye Revive Crème, (£80, radicalskincare.com), which contains Gatuline, clinically proven to reduce wrinkles by 50% in 28 days, and Hylasome, which has five times the water binding capacity of Hyaluronic acid.
Why the name? It delivers Radical Results and nothing else. They also champion radical living – making a difference to others because you can wherever possible


How new is it? It launched in the UK in 2012.

I'd try…
The Revitalising Mask, (£40) which if nothing else is possibly one of the most fun but weirdest products we've ever used. It applies as a clear gel and then magically after a few minutes morphs into a chalky whiteness, before slowly turning into a thick layer of foam and finally start popping all over your face, a bit like spacedust. Extradordinary!. It also leaves skin looking particularly clear and exfoliated.