RUBY LAFANT/ FARMER'S HAND CREAM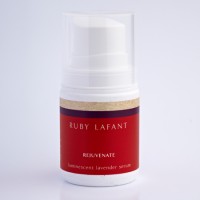 What is it? Lovely fragrant skincare featuring lavender oil distilled on a farm high in the hills of mid-Wales.

What's the USP? Welsh Lavender oil. Which sounds a bit unlikely (doesn't lavender need a nice dry sunny location in which to thrive?) but in fact the local earth, and the 1100ft altitude, and all the rain produce a unique kind of lavender.

Hero product? Farmer's Hand Cream, £12, which is thick and effective and designed to soften toughened hands.

Why the name? Ruby, for the rich red earth of the Welsh hillside where it grows, and 'lafant' is Welsh for lavender.

How new is it? Ruby launched in 2011 so no, not brand-spanking-new but I bet you hadn't heard of it. Now you have. Farmer's Hand Cream followed last year.

I'd try… Rejuvenate serum, £24, light and silky and nourishing — or that fab hand cream. www.welshlavender.com