SAFER BLACK HAIR DYE — ME+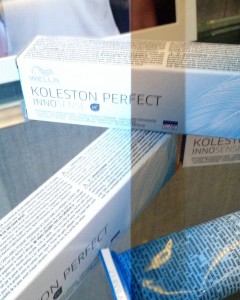 Excellent news for anyone who uses hair dye and frets about the possibility of developing an allergy to it: a new dye molecule has been developed, which is already becoming available in salons, which has a much lower 'allergy profile', so is far less likely to provoke problems.
You might think that sensitivity to hair dye is a minor issue, but 72 per cent of UK women dye their hair – and hairdressers report that allergies and skin sensitivities are among their clients' top three concerns. It is, as one acquaintance who regularly dyes her hair says, a bit like playing Russian roulette with your follicles; you never know if next time, you might react badly to the dye — and of course if you do react and develop an allergy to the stuff, you won't be able to use it again.
The problems are caused by the black dye para-phenylene diamine (pPD), which is found in 99 per cent of permanent dyes, and the darker the dye, the greater the concentration of PPD. It's an effective dye but it's also well-known as an irritant, which has the potential to sensitise one per cent of the population. That's why, when horror stories about anaphylactic reactions to hair dye hit the news, it is always PPD that is fingered. It is banned from use in cosmetics, but is often found in 'black henna' tattoos — a good reason to avoid them — and until now there hasn't been an alternative that gave long-lasting results.
But now there is, in the form of the ME+ dye molecule, which has taken scientists at Procter & Gamble 20 years of research to develop and perfect. To keep the science bit short, what they have managed to do is alter the molecular structure of the pPD molecule to reduce the chances of it sparking an allergy; they have done this by creating a molecule what doesn't fit so easily with the T-cell receptors, the 'gatekeepers' of the body's immune system. If the molecule doesn't fit, it's not so likely to be considered harmful.
The result is a permanent black dye with a greatly reduced potential for problems, though you should still do a patch test 48 hours before using the dye, just in case (the risk of reaction is low, but there is still a small risk, and that any reaction might be serious).
Superstar hair colourist Josh Wood, who runs his Atelier salons in Holland Park and Liberty in between flying around the world to fashion shows and film sets, has been working with the ME+ formulations for the past five years in his role as global ambassador for Wella Professionals — the new dye will soon be available as a Wella treatment called Innosense — and loves the stuff.
'Like most incredible new inventions, it just works brilliantly,' he says. 'It's exactly the same match for match as any other colour, but with a reduced risk of provoking an allergy. It's like having the best car, but with a much better engine. I'm thrilled with it.'
'The trouble with previous 'free-from' colours was that they never delivered exactly the colour you wanted. The colour would end up a bit orangey or yellow-y; if I did anything like that to my clients, I'd be strung up. I need to rely on being able to get the colour I want.'
'I've been lucky, I've seen very few proper reactions to permanent hair colour. No one thinks it will go wrong because it happens infrequently. But it can happen. I want to offer my clients the reduced risk and to have more peace of mind. I mean, why wouldn't you use it?'
The new ME+ dye treatments will be available as part of the Wella Professionals range from January and yes, they will soon be working their way across the whole colour portfolio. I gather that reformulation isn't as simple a task as the layman might hope — you can't just remove one dye molecule and whack in another, but need to rework each colour formula individually. And one day before too long, let's hope, we'll find the new formulas in home-use hair colour, too.