SAMPAR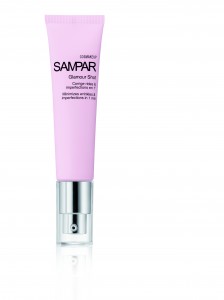 What is it? 'Urban skincare' that ranks itself as 'Cosmakeup', because of its heritage in 'cosmetology'. No, I don't really understand those terms, either, but the range looks smart and contains a number of innovative items of skincare and make-up and some things that are a bit of both.

What's the USP? Smart (as in, highly intelligent) products that 'reinvent beauty routines' and are based on an observation of a Parisian woman's skincare challenges. Apologies if you're struggling to grasp this, but I've read the releases, the website and played with the products and am still struggling to get my mind round it all.

Hero product? Glamour Shot (£26), which is a 'transparent foundation' that 'blurs the lines between make-up and skincare' — all the products are enriched with an 'Urban Advance Complex' (containing probiotics to revitalise the skin, mint endorphin to soothe the skin, and protective shea butter). This sounds bonkers, too, but it manages to even out the complexion, mask redness, minimise lines and pores and leave a smooth mat finish, all in one minute flat and without any foundation pigments…. Which is really impressive.

Why the name? It's complicated… The 'Sam' comes from 'Samuel', who was the grandfather of Sampar's founder and CEO Patrick Sounigo, and the 'Par' comes from Paris, whence the brand originates.

How new is it? Not new in France, but new in the UK on www.feelunique.com and launching into M&S this month.

I'd try…? that Glamour Shot. But try it in store at Marks & Spencer's Your Beauty boutiques – both to see if you like it, and in order to get the salespeople to explain to you what it's all about. If they can.