SANS [ceuticals]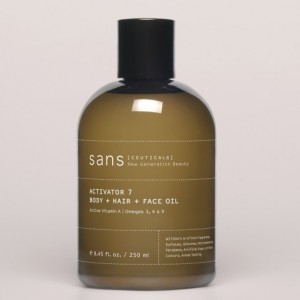 What is it and what's the USP? It's an all-plant-derived body range formulated without pharmaceuticals but with pure yet potent and active ingredients that are both ecologically sound and anti-ageing too. Founded by Lucy Marr, a New Zealander with 20 years experience in hair and beauty salons Sans [ceuticals] aims to close the gap between products that are environmentally safe and good for the body and soul.
Hero product? The Activator 7 Body & Hair & Face Oil (£35, thisisbeautymart.com) a potent and reparative oil with vitamin A for cell repair, antioxidant vitamin E to guard against free radical damage plus Baobab, the ingredient of the moment, due to its high omega content. This oil can be used on the body, face and hair so it's a real multi-tasker.

Why the name? Sans means 'without' in French (ie, without those pharmaceutical ingredients that natural-skincare-fans prefer to avoid).


How new is it? It launches today.


I'd try… the pH Perfect Body Wash (£20). A lovely lipid rich hand and body body wash with a high vitamin content (A, E & B5), a ceramide complex to aid moisturisation and the free-radical scavenger Lychee to help protect against photo-aging.