Skincare: my 'normal' regime vs my recent pared-back regime
17th March 2018
Normally, I use a lot of what you might call 'active' skincare – products with ingredients that have a well-established scientific reputation for smoothing, brightening and de-wrinkling the skin. But for the past three months, I have been trying out a special kind of vitamin C supplement (it's called Altrient and it's a gel that I squeeze into a glass of water and gulp down three times a day) to see if that on its own can bring about improvements in my skin.
If you follow me on instagram, you'll know I've been going on about this for, well, three months, and during that time, in order to see what the supplement is or isn't doing, I have had to stop all the 'active' skincare, all the usual vitamin C, glycolics and retinoids that I like to use.
So I thought now might be a good time to tell you about what I normally use on my face (and why) – and also to say what I've been using on my restricted 'inactive' regime for the past three months. If you prefer watching to reading, there's a video about all this at the bottom of the post and on my youtube, but for those who like to read, here goes.
Cleansing
I do like a cleanser with glycolic acid in it. Not always, sometimes I want something gentler, but I have skin that is still on the oily side and find that a product with that extra ability, thanks to the glycolic acid, to add a gentle mini exfoliation at the same time as cleansing, helps keep my skin clear. I love Neostrata's Foaming Glycolic Cleanser, £24.99 (of course I couldn't find one to photograph when I wanted it) but here's another favourite, Dr Levy 3 Deep Cell Renewal Micro-Resurfacing Cleanser, £39, cultbeauty.co.uk. If you put this on and massage it in and leave it for five minutes before moistening and rinsing off, you get a stronger effect with it.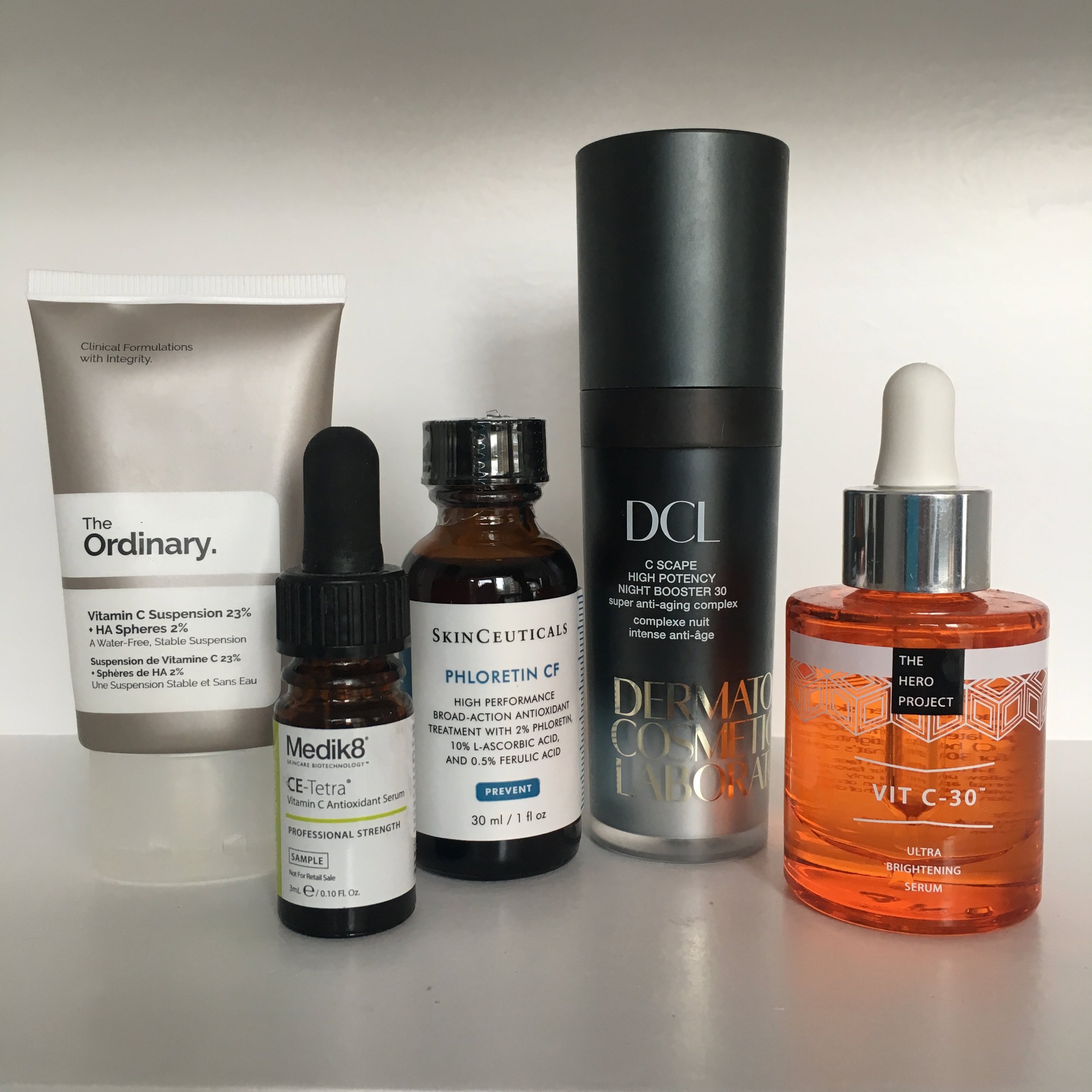 Vitamin C serum
I'm also very partial to a vitamin C serum. Why? Because it's a powerful antioxidant and a well-formulated vitamin C product will: help boost collagen production in the skin, help strengthen skin against ultraviolet light; help minimise pigmentation marks and so help skin look brighter. This lot are all regulars on my shelf: The Ordinary Vitamin C Suspension 23% + HA Spheres, £5, theordinary.com; Medik8 CE-Tetra, £36, medik8.com; SkinCeutical Phloretin CF, £150, skinceuticals.co.uk; DCL C-Scape High Potency Night Booster, £108, spacenk.com; The Hero Project Vitamin C-30, £39, heroproject.co.uk.
I put vitamin C serum on straight after cleansing in the morning EXCEPT two of the ones above, the Ordinary product and the DCL one, are both night-time use products. Confusing? Yes, sorry. But they're all great.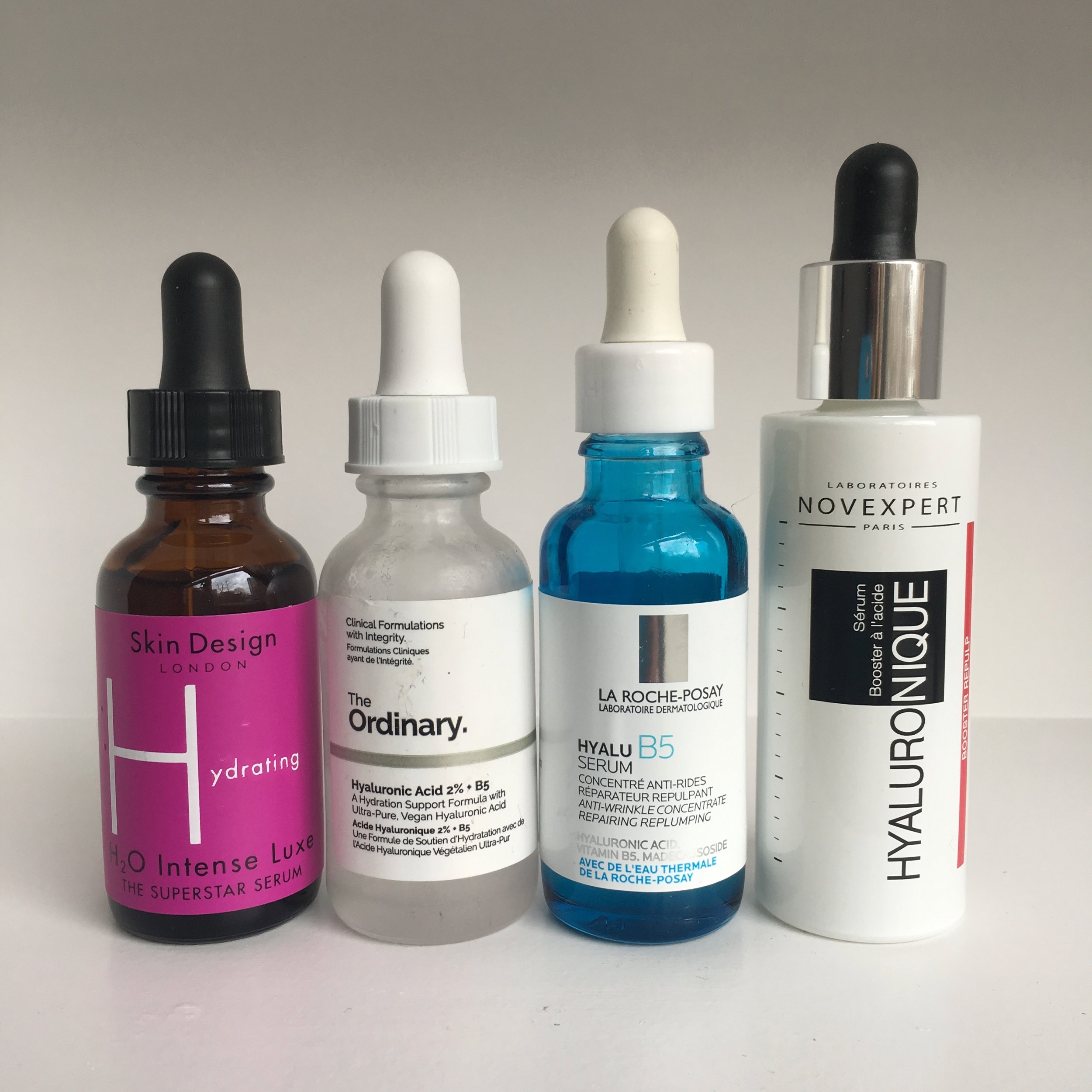 Hyaluronic acid (HA)
If my skin is feeling dry, I'll use a couple of drops of hyaluronic acid serum to hydrate it. HA is a really useful ingredient because it sinks into the skin and hands onto moisture, which softens the skin and helps plump it up. HA is a big molecule so it doesn't sink very far into the skin, so for this reason skincare companies usually chunk up their HA into smaller molecules, which will sink a little deeper. If your chosen HA serum is called 'multimolecular', it's because it contains different sized molecules, to give a broader hydration. I find these ones all do the job very nicely: Skin Design Hydrating Serum, £105, skindesignlondon.com; The Ordinary Hyaluronic Acid 2% +B5, £5.90, theordinary.com, La Roche Posay Hyalu B5 Serum, £37, larocheposay.co.uk; Laboratoires Novexpert Serum Hyaluronique, €49.90, novexpert-lab.com
Sunscreen
Every morning, and I mean every morning, I then pop on some sunscreen – anything, frankly, which has a nice consistency and good broad spectrum protection – that means that it will fend off both UVA and UVB rays. I'll spare you the 'why sunscreen?' lecture just now. These are sunscreens I've been using recently – the one favourite missing from the lineup is Paula's Choice Resist anti-ageing moisturiser SPF50, paulaschoice.co.uk which is a godsend for anyone with oily skin and which one of my daughters has run off with. PCA Skin Weightless Protection Broad Spectrum SPF 45, £39, dermacaredirect.co.uk; Exuviance Sheer Daily Protector SPF 50, £36, effortlesskin.co.uk; La Roche-Posay Anthelios XL Ultra Light, £16.50, boots.com; Skinceuticals Brightening UV Defense SPF 30, £41, skinceuticals.co.uk
Evening – glycolic
A couple of times a week, after cleansing in the evening, I like to use a glycolic 'toner' because it gives a gentle exfoliation (by dissolving the cellular 'glue' that holds old skin cells onto the face), boosts hydration in the skin and helps tone down pigmentation. After cleansing, I wipe my skin over with one of these, and that's it. REN Ready Steady Glow AHA Tonic, £25, [having said they're all glycolics, this one isn't, it contains lactic acid which is a gentler sort of alpha-hydroxy acid, but does much the same job) renskincare.com; Alpha H Liquid Gold with Glycolic Acid, £33.50, marksandspencer.com; Bea Skincare Glyco 15 Serum, £39, bea-skincare.com
Retinol, retinal, retinoids…
If it's not a glycolic evening I'll probably use a retinoid of some sort. Retinol and its weaker cousin retinyl palmitate are both types 'retinoid', which basically means any product derived from vitamin A. And vitamin A is the best ingredient known to science for de-wrinkling the skin, keeping down skin oiliness (and so helping to keep pores clear), and encouraging the normal turnover of skin cells so it makes sense to use whatever version of it your skin can tolerate. If you're starting with retinol, try it once a week and if your skin is fine with that, move to twice a week. If you start getting redness or dryness, back off and use it less, or try using a moisturiser over the top. These are all really nice. Murad Retinol Youth Renewal System, £70, murad.co.uk; Lixir Night Switch Retinol 1%, £28, victoriahealth.com; The Ordinary Advanced Retinoid 2%, £8, theordinarycom; Beauty Pie Super Retinol + Vitamin C Night Renewal Moisturizer, £75, beautypie.com. Again, these are all designed for night-time use except for the brilliant DCL Profoundly Effective A Cream SPF30, spacenk.com which is an all-in-one morning-use product which moisturises, de-ages and protects skin all in one go.
** **
AND HERE'S THE PARED BACK REGIME I'VE BEEN ON
Keeping it simple: cleansing; sunscreen; night cream.
So this is what I have been doing for the past three months. Cleansing with gentle, no-fancy-ingredients cleansers like these two above: Skinceuticals Gentle Cleanser Cream, £31, skinceuticals.co.uk; Foreo Luna Mini 2, £119, foreo.com, which is a vibrating silicone cleansing brush which is brilliant for grubbing out clogged skin around nose and chin; Good Things Manuka Creamy Cleanser, £4.99, www.goodthingsbeauty.com [and hands up, this is my brand, and this is the product that I use from the line-up more than any other].
Then I'll maybe use a drop of HA serum, as above, and sunscreen. And in the evening after cleansing, I apply this which is admittedly a very superior kind of night cream – Skinceuticals' Triple Lipid Restore, which I would normally use on nights when I'm not using either retinoids or glycolics, and which I have been using every night recently. It has a high concentration of cholesterol which is really good for helping repair the barrier function of mature skin. £130, skinceuticals.co.uk
And that's it. Very simple, but of course I've been itching to get back to all my 'usual' skincare tricks. I'll post about the results of the vitamin C trial in due course.
Here's the video from my YouTube channel with me talking through all these.