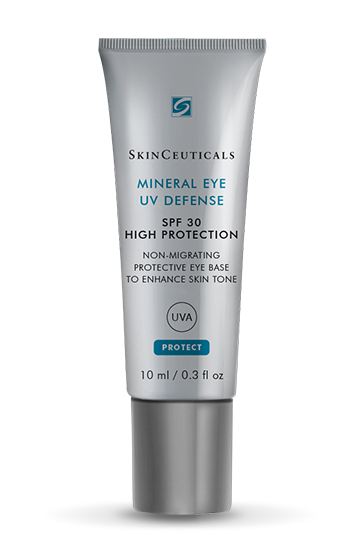 Skinceuticals Mineral Eye Defense SPF30
24th March, 2016
by Karen Heath
It's a fact that sunscreens for the eye area are notoriously hard to fine. Believe me, I've spent many hours over the years eeking them out only to find that they almost always get discontinued, (here's looking at you Clarins, Estee Lauder and Shiseido!). Frustrating? You bet and here's why.

We're all constantly reminded that the skin around the eyes is the first to show the signs of ageing. It's thinner compared to the rest of the face with fewer oil glands so it's particularly vulnerable to damage from UV radiation and dryness, and that's before you take into account the hundreds of tiny muscles around the eyes that we use when laughing, smiling and squinting and yet nearly all facial sun protectors advise you not to use them around the eyes. And if you have ever dabbed your regular SPF around your eyes deliberately or mistakenly you've probably discovered why that is. Stinging, smarting, watering and basic misery – need I go on?
So imagine my interest when SkinCeuticals announced they were launching a Mineral Eye UV Defense SPF30? Titanium Dioxide is the mineral which acts like a mirror, reflecting and blocking the sun's rays but stays on the surface of the skin, hence less irritation risk hopefully. Matte and tinted it's suitable for all skin tones.
And I can tell you after using it faithfully over the last six weeks that it's great. Only a small amount is needed for each eye, about the size of a grain of rice which is just as well as it's only available in a teeny tiny 10ml tube (handbag size SkinCeuticals tells me). It works well as a primer for eye makeup too or concealer if you feel you need it or you can just wear it by itself. Now SkinCeuticals please DON'T discontinue it!
Mineral Eye UV Defense SPF 30, £26, skinceuticals.co.uk