SMITHS OF JERSEY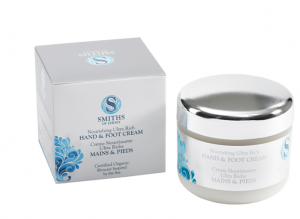 What is it? The Channel Islands only certified organic skincare range consisting of four luxury bodycare products and created by mother and daughter, Sue and Nicky Smith.


What's the USP? Seaweed and marine extracts, harvested in Jersey are the key ingredients. Sue first discovered the benefits of seaweed when involved in a marine breeding programme in Jersey. When her skin improved after handling seaweeds she was inspired to develop a skincare range combining organic, sustainable and ethically produced seaweed. Sea Fennel, Irish Moss, Dulse and Sea Kelp are also used as they're packed with vitamins, minerals and trace elements.

Hero product? Nourishing Ultra-Rich Hand & Foot Cream (£18.95, smithsofjersey.com), is their best-seller probably because it's a saviour cream for hardworking hands and feet.
How new is it? It's just launched in the UK.

I'd try… The wonderfully refreshing and invigorating Marine Rich Detoxifying Bath and Shower Wash (£19.95).