SOPHIE LA GIRAFE
by Karen Heath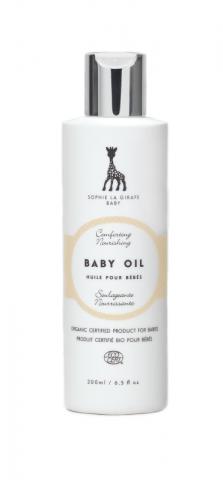 What is it? Sophie la Girafe, to the uninitiated, is a rubber giraffe, that frankly strongly resembles a dog toy (she squeaks like one too) but is actually a baby teething toy.
This highly successful and sought after toy is a bit of an enigma to me and many others but babies absolutely love her, and I've seen the proof myself. It is hard to work out what is so special about her, but apparently it's the natural, phthalate-free rubber that babies like the texture and smell of and of course she's easy to squeeze and chew and grasp in tiny hands.
Launched originally in France in 1961, it isn't that surprising that the company has expanded to include a whole range of baby paraphernelia in their range including an organic skincare range. The range includes a body wash, face cream, baby oil, baby lotion, protection cream and bubble bath and the prices are at the high end of the market starting at £10.99 for the bubble bath. As expected these products are organic and totally lovely and will probably be as loved by babies as the original rubber giraffe.
For stockists visit sophielagirafe.co.uk