This week I've been skipping round town catching as many of the new product launches as possible – there seem to be dozens just now.
LIGHTWEIGHT FOUNDATION
New from Bobbi Brown is the Cushion Compact foundation whose refills come in coffee-pod-style packaging – and good range of shades, see below.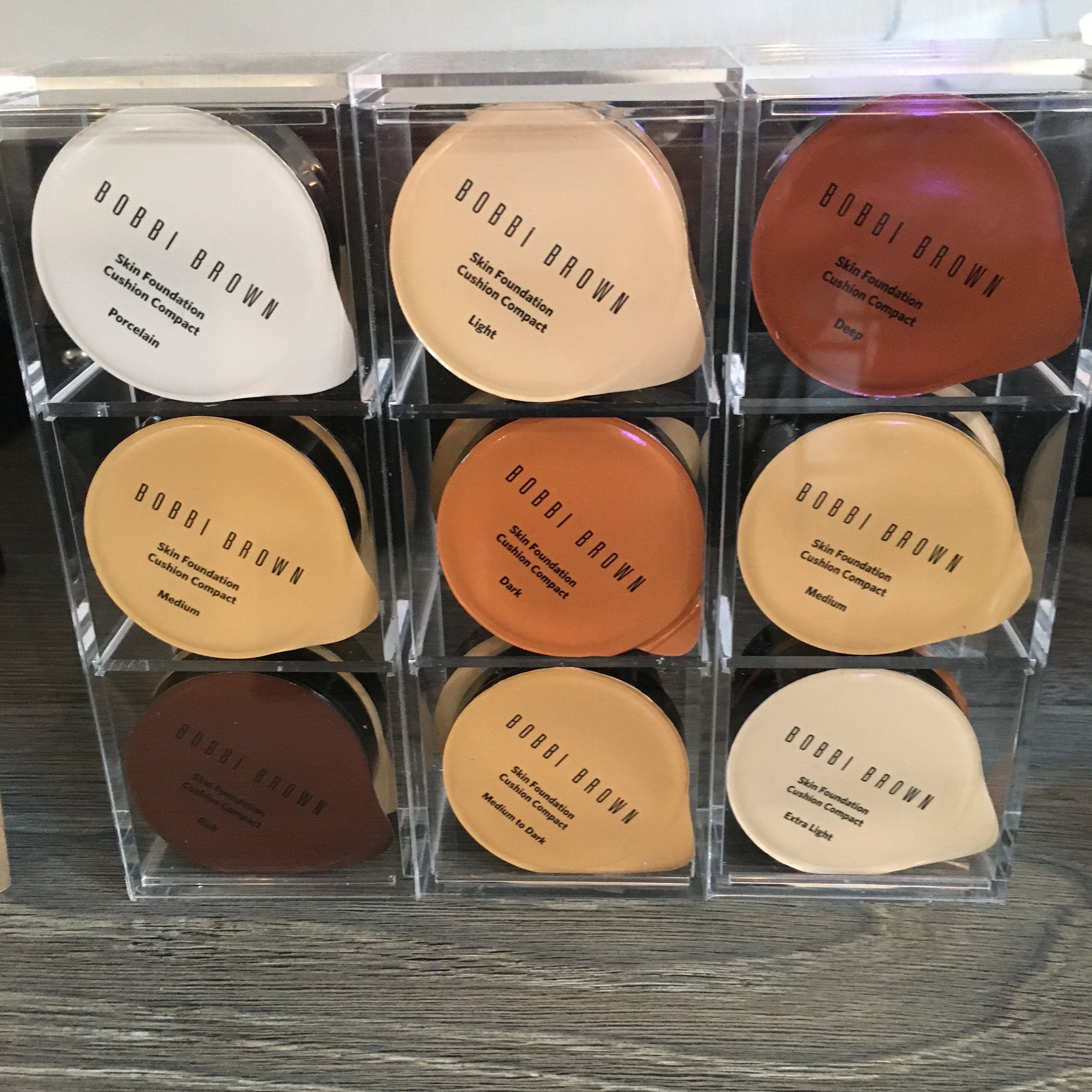 The Bobbi Brown Cushion Compact foundation
It's a really lightweight formulation that you press onto the skin with a rolling movement – if you need more coverage, it's easy enough to build up, but lightweight is where it's at if you ask me, particularly for older skin where heavier foundation only emphasises lines and wrinkles.
SPRAY ON SUNSCREEN
Garnier made their SkinActive launch into more of placard-waving demonstration ('Stand up for our skin!' they said, and '#Skin Activist', etc). There are new additions to their bestselling Micellar cleansing line – a nice gel wash and an after-cleansing gel toner with salicylic acid which should be good for keeping blemish-prone skin that bit clearer. But the product that really took my fancy was Moisture Bomb, above, a spray on hydrating mist with SPF30. You can apply it to bare skin, or over make-up; it's super-light and settles beautifully on the skin so this is an absolute winner and has gone straight into my handbag (because, like all the smooth-skinned dermatologists I have ever interviewed, I wear SPF every day and know that by lunchtime, the effectiveness of whatever went on in the morning is wearing off, and this is a really easy way to reapply).
Then, to my amazement, this – the spray-on Pixi Sun Mist SPF30 showed up in my in-tray. It's like the busses. You wait years for a spray-on facial sunscreen that's lightweight and portable… then two turn up at once. So this is very nice – a light spray lotion though it settles in droplets all over my (slightly oily) face and needs to be spread around to make it settle. Still, nice to know it's there.
CAROLINE HIRONS/PIXI DOUBLE CLEANSE
And this arrived, too – a very clever offering from skincare supremo Caroline Hirons, which she has done in collaboration with Pixi. Caroline has always been a big advocate of the benefits of double-cleansing – the idea is that the first cleanse gets rid of the worst of what's on your face – make-up, sunscreen etc – then the second finishes the job to perfection. So this two-in-one pot makes it super-easy and solves the problem of wondering which oily-first-cleanse will go with which cream-follow-on. The oil part is solid but very light so it melts instantly on the skin. I found it very easy to massage round and it easily lifted off eye-make-up. Adding water turns the whole mess into a milky emulsion which rinses off easily enough though I used a wet flannel to help it along, and my skin felt pretty clean. I'd have been tempted to stop there but the thought of what Caroline would say about that (she's not slow to offer her opinions, as you may know), kept me going. And the cream is lovely and lightweight, but easy enough to work around the face so it felt like a real treat. And yes, I took that off with a damp flannel, too, just for the sake of form. It's £24 at M&S beauty.
SMUDGING MY ROOTS
There's a lot of colour – a colour-lifting tint, rather than highlights – in my hair already so I always want to hold out for as long as possible between appointments. And I don't mind a bit of dark salt-and-pepper rootiness but what I object to are the two wings of tufty white-grey that continually rematerialise on my hairline (it's like my hair's little memento mori to me: you may think you are all streaky-blonde, it says, but here's the truth, and it's seriously grey).
So every now and again I pop in to the Daniel Galvin salon to ask Grace or Heather to stick on a quick root-smudge – as above – on the offending bits. It takes five minutes and blends away the grey, just enough to keep that little memento mori at bay.
VISITING THE AESTHETIC MEDICINE LIVE SHOW
'Aesthetic medicine' is all the stuff cosmetic doctors do: Botox and fillers, lasers and light treatment, fat-freezing and thread lifts and all the rest. And Aesthetic Medicine Live is a trade show at Olympia which I like to wander round to catch up with doctors and product manufacturers and see what's going on. This thing, above, is an LED light mask which produces red (healing) blue (anti-bacterial) and purple (regenerating. I think) light – the top right pic is what it looks like from the inside. LED light therapy is hugely popular just now and many salons and clinics are using a mask like this as an add-on to facials or treatments like micro-needling – the red light is very good at calming down the inflammation from the needling. With these masks, you get what you pay for and the people behind the Deese mask, above, tell me that theirs is superior because the lights are stronger than in their competitors' offerings, so they're more effective (and completely safe and painless, too). About £1,000, which is why this is a salon or clinic version, though celebs like Kim K love them and use them at home.