STRIPLAC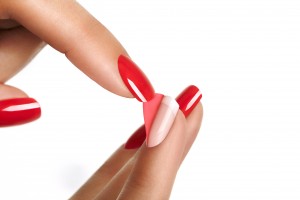 What is it? An innovative and rather brilliant new type of nail varnish.

What's the USP? Combines the advantages of a gel nail — rock solid, high-shine finish that lasts for 10 days — with home-use convenience, ie you can paint it on like normal varnish, set it with a compact little LED device, but then rather than fiddling around with acetone-soaked wraps or needing to visit the salon to get it changed, you can just tweak up a corner of the polish…. and peel the whole lot off.


Why the name? A does-what-it-says-on-the-box name, ie it's nail lacquer that strips right off…

How new is it? Brand new. Launching just now into the UK.

I'd try…? the Starter Kit (£119.95, www.alessandro-international.co.uk) which gives you everything you need, including the LED lamp, red polish, topcoat and base-coat and the cleansing pads that you need to remove the tackiness that develops as the product 'cures' itself dry. Nail polishes in other colours cost £15.95.