SURYA BRASIL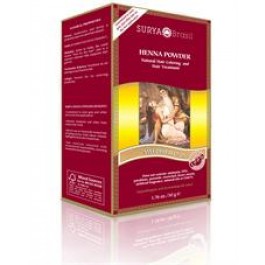 What is it and what's the USP? It's a hair and skincare brand from Brazil, where it was started by Clelia Angelon and her daughter, Wanda Malhotra back in 1995. Clelia had developed allergies from chemical hair colours and after years of research and development created a range of natural colour formulations. The brand continued to grow and focused on being a socially responsible company producing all natural, organic, vegan, bunny-friendly products for hair and skin.
Hero product? Henna Powders (£6.99, yourtonic.com) and Henna Creams (£12), natural hair colour formulations for use at home or in salons that are available in fifteen shades (cream) and eight shades (powder) with one neutral shade for conditioning. They're semi-permanent colours containing herbs and fruits from Brazil and India which gives both colour and deep conditioning and cover grey right from the first application. They're free from ammonia, PPD, parabens, peroxide, heavy metals, mineral oils and GMOs.
Why the name? Surya "the Supreme Light" refers to Suraya, the solar deity in Hinduism. Here the brand refers to the "sun" of the brand's homeland, Brazil. Clelia and Wanda hope to spread a bright "light" and transparency on the natural and organic lifestyle market as well as compassion for all living creatures with the launch of each product.

How new is it? It launched in the UK at the beginning of last year.