SWISSCODE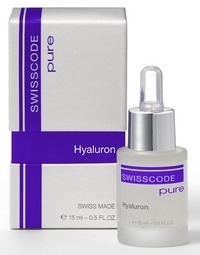 What is it? A Swiss beauty company with an edited range of targeted anti-aging products.

What's the USP? The Swiss laboratory behind the company, which had been developing skincare for leading brands around the world for years, had noticed that in most products, most ingredients seemed to be there to bulk up the products and bind the other and that the key ingredients were only ever added in tiny quantities. So they decided to take out all the superfluous ingredients and bottle only the finest actives…

Hero product? Hyaluron (£52, swisscode.co.uk), a hyaluronic acid-based 'super-serum' with a very impressive A-list following (Jennifer Aniston, Courtney Cox). It instantly plumps skin, leaves a dewy complexion even when your skin tends to dryness and is getting on a bit. Use it on its own before foundation or mix a drop in with your day cream for super-charged moisturising.

How new is it? It launched in the UK in 2011 so no, not that new, but the Hyaluron sample has just re-emerged from the back of one of my shelves and I've fallen in love with it all over again.

I'd try… whatever looks right for your particular skin issues but the Stem Cell Age Control (£134) sounds amazing with a cocktail of stem-cells to stimulate collagen, reduce wrinkles, maintain moisture levels and improve smoothness and elasticity. Though I'd start with that Hyaluron.