Tangle Teezer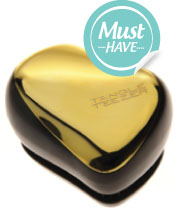 If you don't already own a Tangle Teezer, let me recommend this blinging little beauty, the latest look from TT's well-stocked stable. And if you don't own one, you won't know the story, so I'll tell you.
The Teezer was invented by celeb colourist Shaun P
sorry, hairdressers are like that, they don't always do full names) and it's an innovative way to tackle the age-old problem of how to smooth out fragile, tangled hair with the least trauma to the cuticles and their owner; its secret lies in its flexible, carefully-spaced teeth (there's a patent on them).
The Dragons Den panel dismissed it as a hare-brained idea but Shaun persisted, financed its development himself and now has an armful of awards to show how right he was to carry on. If you have long hair, curly hair, or just hair that goes all birds-nest/bedhead on you overnight, I suggest you try one: it might just change your life.