TESTING ISOLAZ – high-tech acne-buster
I've been hearing a lot about Isolaz, a high-tech treatment for dealing with stubborn acne, and yesterday I went to see the machine in action, with a young friend who has persistent acne as my tester.
Isolaz bills itself as a treatment that 'purifies your pores' from the inside out, in order to clear existing acne and help prevent future breakouts. It does this by zapping the skin with an intense pulse of light to the destroy the bacteria that cause acne, while at the same time suctioning dirt, blackheads and excess oil out of the pores, to deep-clean them.
This all sounds really impressive, and it's a step on from previous light-based acne treatments, which used blue light to quell the acne-causing bacteria, which helped reduce breakouts, but only in the short term.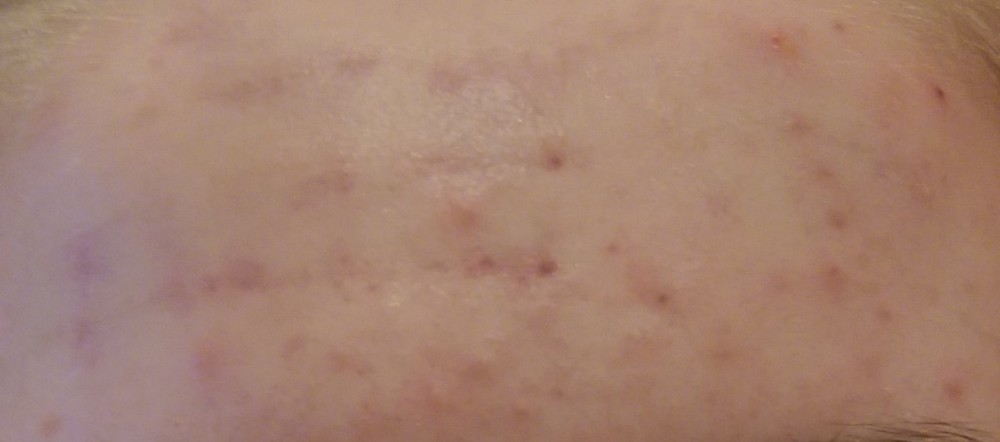 My tester, Miss P (she would rather not have her name used, and fair enough) is 18 and has had spots for years. Her mum took her to a dermatologist when she was 15 and she had a couple of courses of antibiotics, which helped a bit, but this wasn't something she wanted to do long-term. Since then she has tried prescription skincare which again, helped a bit though the stronger stuff (vitamin-A based creams) made her skin quite dry and flaky. She has tried various over-the-counter anti-spot creams, and courses of facials, which haven't helped noticeably and, understandably, has been unwilling to try other stuff, and just covers her spots up with make-up for school (she uses mineral powder foundation) and admits that even though she can sometimes forget about it, it really gets her down. But over Christmas, her acne suddenly got much worse, which is why she was prepared to give Isolaz a go. Some of her spots are small red bumps, some are big and come to a head, and there's a whole mass of them around her mouth that weren't there before. But they come up steadily, wave after wave.
It's not a magic wand that will change everything overnight and we know that, but what Isolaz does offer is clinical studies that show an immediate reduction in redness and an immediate flattening of blemishes, and the hope-inducing statistic that 64 per cent of testers whose acne hadn't responded to antibiotics or anti-acne skincare saw a 75 per cent clearance in their acne. It's an expensive treatment, at around £150 a session (you need several to see a proper difference), but as long-term acne-sufferers will know, there comes a point where you start to think that anything that gives results would be worth trying.
To try the machine out, we went to 111 Harley Street, a very smart skincare clinic run by the cosmetic surgeon Dr Yannis Alexandrides. Melissa, the aesthetic nurse, explained the treatment to Miss P then took her through to the treatment room – the pulses of light would feel warm, but not painful; the suction was quite strong and it shouldn't bruise the skin but it might. The Isolaz machine is large and clinical-looking machine, like a laser, with a hand-piece on a long snaky neck and this hand-piece has a small glass window in it, which delivers each suctionning flash onto the skin. It's not laser light, but a type of Intense Pulsed Light (IPL), and, after her face had been carefully cleaned, Miss P had to wear little goggles to protect her eyes. Because each flash just covers 2cm of the skin, it takes a while to work around the whole face, depending on how much of it needs treating.
She emerged about half an hour later looking triumphant, even though her face was a bit of a mess as every spot was showing up, reddened by the treatment and there were pale outlines of bruising in a couple of places on her forehead. The suction bit felt really strange, she said, and it had hurt a good deal more than she was expecting, but then maybe she just had a low pain threshold (her suggestion not mine; brave girl). But she was thrilled to have had it done and went home for a quiet evening in, equipped with some of the clinic's very special 111Skin products to keep her skin clean and moisturised, and some special Oxygenetix foundation (I'll write about this another time, it is good for healing traumatised skin).
The next morning, she reported back that her face didn't look great, but it felt wonderfully smooth – the treatment had really emptied out the spots — and with the special foundation to cover it up, she looked fine. She is keen to go back for more, which is good – to get the best results, you need a course of 6-8 treatments.
I will be posting on how it goes.
Isolaz costs about £150 per treatment
So that I can see the treatment in action and write about it, Isolaz and 111 Harley Street are very kindly treating Miss P without charge.