Testing, testing…
VENUS LEGAGY – latest in body-sculpting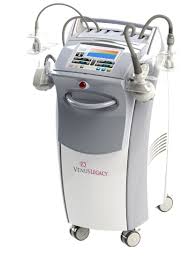 OK, so it's not the sexiest piece of kit but this machine, the Venus Legacy, is this summer's hot new hope for fat-busting, thigh-slimming and bottom-sculpting.
It is from the same company that brought us the Venus Freeze facial treatment – a swift dose of warming radiofrequency energy that gives a small but noticeable contouring lift to the face within half an hour (yes, the name 'freeze' is a complete misnomer) and like the Freeze and unlike any other radiofrequency-based body treatment I have tried, it is very comfortable.
What the Legacy offers is fat-busting, cellulite-minimising and skin tightening — surely the holy grail of body treatments – and it is being touted as this year's top offering, with impressive before-and-after pictures on the website (last year's hot ticket, the very impressive VelaOnce, is still going strong, and very effective, though a bit more expensive and rather more uncomfortable).
However much I click my teeth and think that a traditional diet-and-exercise approach is the best long-term route to a better body shape, there comes a point of summer where it suddenly seems vital to try one of these treatments.
The Venus team enticed me in for a trial treatment with the promise that I would see an improvement even from one half-hour session, even though for proper, lasting, impressive-before-and-after results they would recommend a course of eight treatments.
The machine's USP is combining doses of radiofrequency energy with a fast, pulsed suction which helps boost the circulation and lymphatic drainage in the treated area (always helpful for improving the look of cellulite) and which I think helps the radiofrequency reach further into the fatty tissue that it is meant to be breaking down (it's also heating the surface, to give the skin-tightening effect).
What it feels like is a nice soothing hot stone massage. The treatment head dispensing the (hot) radiofrequency is kept in motion so it never becomes intolerable, and the slap-slap-slap of the suction is peculiar but not uncomfortable. I like to think there was a small, lifting improvement to the crease where the top of my thigh meets my bottom — it was enough to give me hope that more treatment might deliver more results. Should you give it a whirl? That depends on how much time and money you have to play with; it's around £110 a session and you may need up to eight to get the results you are after.