Those Judy Murray before-and-after photos – what's the fuss?
7th March 2021
So, after all the coverage of Judy Murray's amazing transformation the other week, there's been a lot of discussion – sometimes quite heated discussion – around the results.
Firstly people started talking about whether or not you could trust the before and after pictures showing how she went from looking lined and covered in age spots, to looking fantastically fresh-faced over the course of a year. Secondly, everyone wanted to know which treatments Dr Judy Todd had used to bring about this huge change, and whether or not we could be sure that the treatment mentioned had really done the job. So, I thought I'd talk about this from my perspective as someone who writes about tweakments for a living.
Were those before and after photographs real?
The difficulty with before and after photographs is that, in order to be consistent, you want them to be taken in the clinic in exactly the same position, using the same equipment, in the same lighting conditions, so you get an idea of how somebody has really progressed through their treatment journey.
If you look at the pictures that came out in Hello magazine and if you look at the grid (see 0:50 seconds into the video). There's one in the bottom right hand corner, the final picture, where Judy Murray looks visually completely fabulous but the lighting is different, it's not consistent with the other pictures, so of course that was the one everyone very focused on.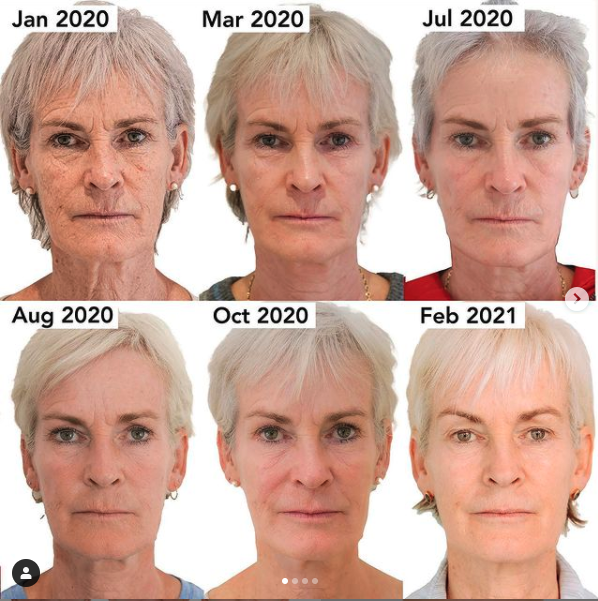 What we have been seeing all over the press is that last picture compared to the first one, which has kind of exaggerated the effects of the treatment journey, and, that is because that last picture was not taken in the clinic, it was taken at the Hello photo shoot. The photographer who had done the in-clinic pictures had been travelling to the photo shoot to do the final after picture, and he had the right equipment and everything, but his train got stuck, so the Hello photographer took the picture instead.
It was meant to be done without makeup; it was meant to be done in plain light, but in the resulting final picture, she has clearly got makeup on, so it's not a fair comparison with what came before.
How to see a better comparison
If you really want to see how the transformation has taken place, you want to compare that first image with the fifth image in the grid (see 2:10 minutes into video). There is a massive improvement and obviously it looks even better with makeup on the top.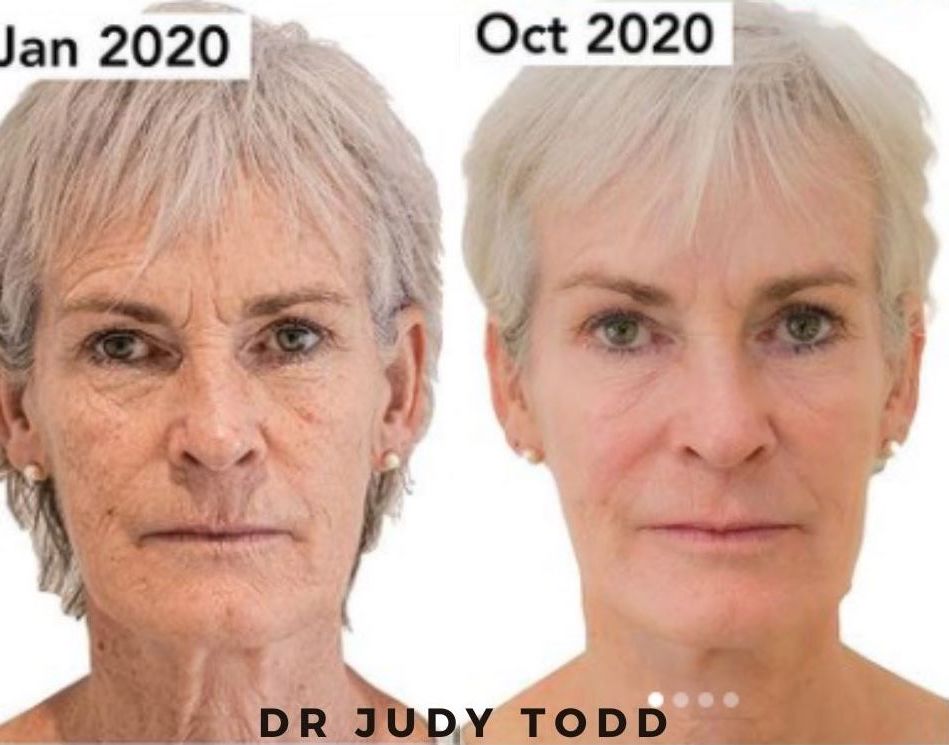 In the films where Judy's been talking about the work that she's had done with Dr Judy Todd, her face looks even fresher and lovelier than in those pictures because the clinical pictures are not supposed to be particularly flattering.
What treatments did Judy Murray have?
As for the treatment that Dr Todd used on Judy Murray, the one she talked about was a radiofrequency treatment delivered through microneedles called Morpheus8. This kind of treatment is very popular at the moment, very trendy.
There are various sorts of radiofrequency microneedling treatments, including Secret RF from Cutera, Profound RF and even INTRAcel as well as Morpheus8. They're all great treatments and what they're doing is using the needles to deliver that radiofrequency energy, which has a kind of shrink wrapping effect on the collagen deep in the skin, so the skin will regenerate from the inside. Obviously, you've also got the knock-on effect of the microneedling, which is creating tiny wounds in the skin so, as those heal, you get an extra degree of collagen contraction and skin regeneration.
It's a great treatment and you need several rounds of it. Judy Murray had three rounds of it a few months apart. That's a bit more spaced out than usual because of Covid. It would normally be about one treatment a month.
What skincare did Judy Murray use?
In interviews, Judy Murray mentioned that she was using skincare given to her by Dr Judy Todd – this was a skincare treatment protocol called Obagi NuDerm, which is a very strong clinical range that has to be prescribed by a practitioner – it's not something we can go out and buy in the high street – and that, used over the course of a year, certainly has the power to wipe out age spots and to refresh the skin and make the skin cells turn over and produce younger, livelier versions of themselves.
So, NuDerm put together with the Morpheus8, has achieved the overall result. There wasn't Profhilo, there wasn't fillers, there wasn't any other things that you might expect. But, the pictures do show a really nice progression and I think we all particularly love them because here's somebody who we feel we know well, a very well-known face, talking openly about having treatments to make her look better. I mean I wish she hadn't been motivated by the fact her boys said she had a "turkey neck", how very dare they, but, nonetheless, she wanted to have a treatment to freshen up her skin and this has been a really good result.

Obviously she's got very nice bone structure so she doesn't need jaw redefining or fat busting under the chin or any of the other things that usually plague people who are coming up to 60 or thereabouts. The treatments are good and that was all that was done, it wasn't like a massive face lifting programme.
When it comes to before and after pictures, you do need to check very carefully what they are when you're being sold a treatment and told that it can turn you from this into that. You need to see that the pictures are consistent, in this case they weren't entirely, and what you should be looking at is numbers one and five in that sequence, like I showed before, that will give you a better idea of exactly what happened in this case.